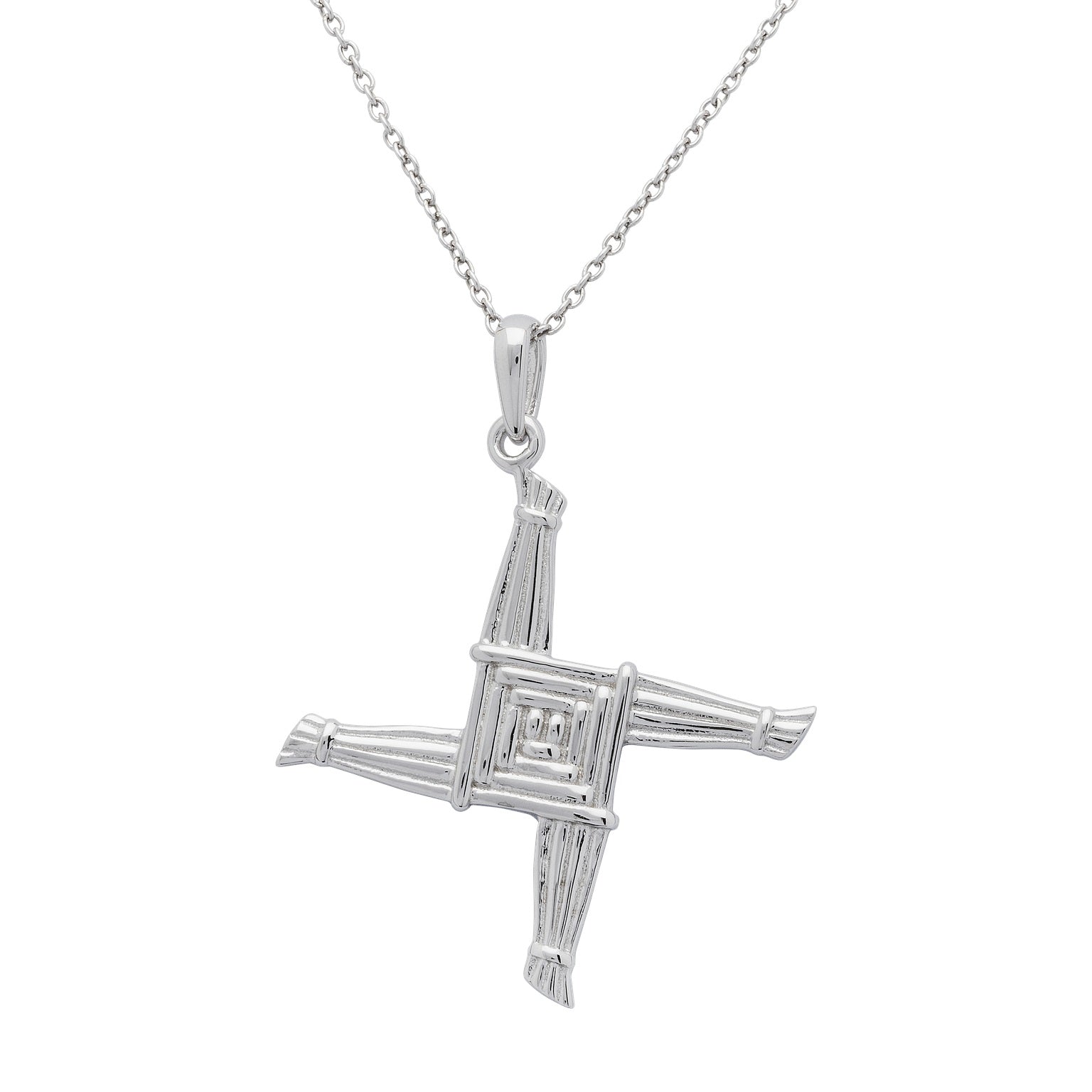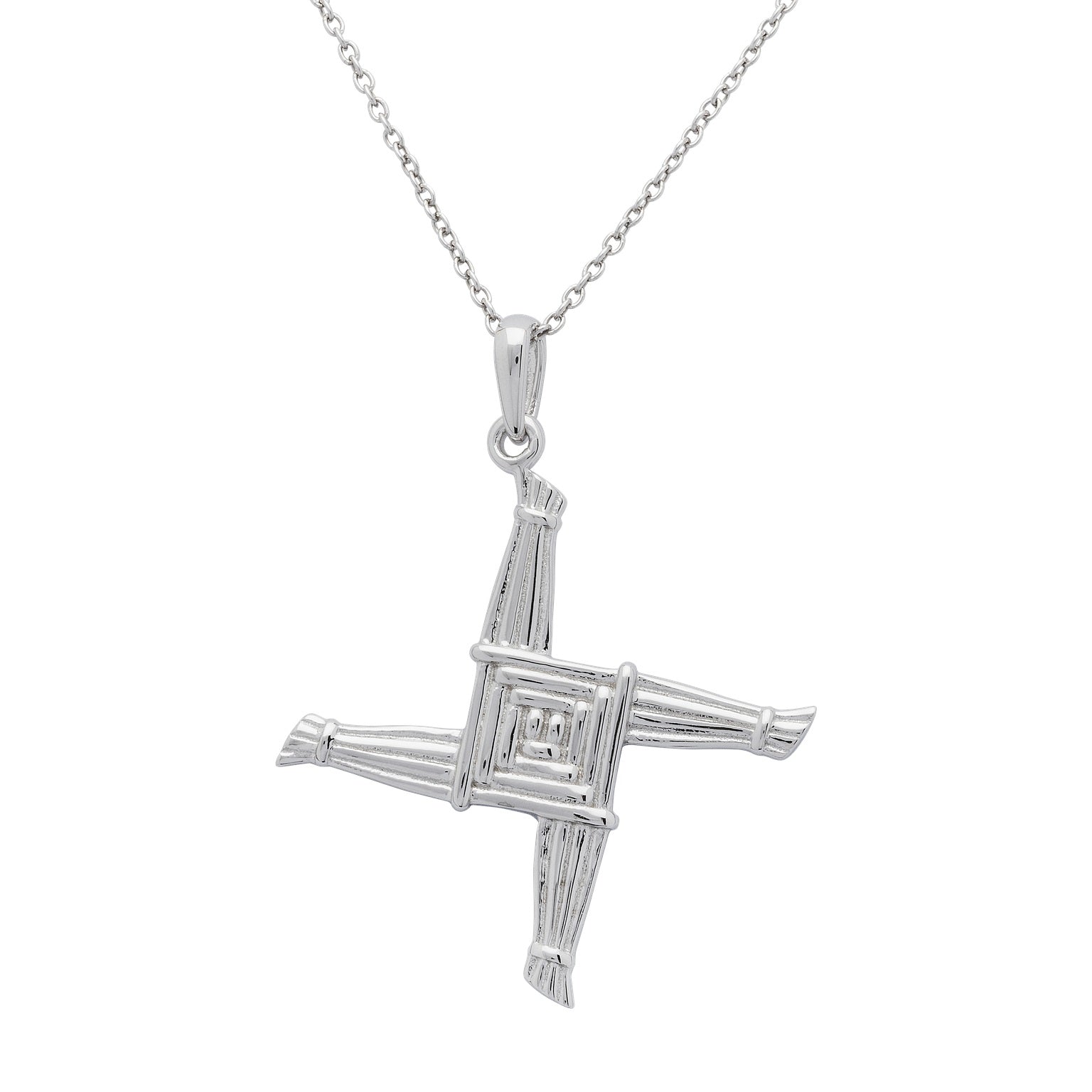 Sterling Silver St. Bridget's Cross Necklace
Sale price
$82.00
Regular price
Tax included.
In stock, ships within 2 days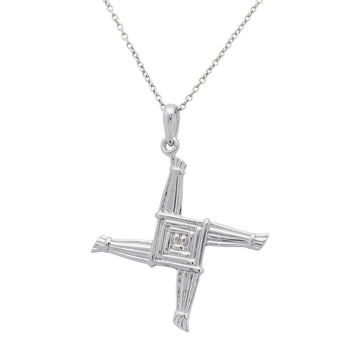 Sterling Silver St. Bridget's Cross Necklace
Product description
Shipping & Return
Customer Reviews
About this Piece

This beautiful necklace of the iconic cross of St. Bridget is crafted from Sterling Silver, resulting in a superb Irish charm for a loved one.

The Legend of St Briget

Also known as St Brigid, she is Ireland's most famous female saint. Born in 450 AD in County Louth to a pagan chieftain and Christian mother, Bridget was named after the Celtic goddess of Spring, fertility, craft, and poetry. She was inspired by her contemporary St Patrick to follow the Christian path, choosing to devote her life to the poor and needy instead of finding a husband. She even prayed for her beauty to be taken away so no-one would want her hand in marriage. 
She founded many convents and monasteries throughout Ireland, as well as a school for art. She became a folk heroine, with any miracles, relics, and mythical stories associated with her name. Today, making a 'St Bridget's cross' is an Irish custom at the start of Spring on February 1st - St Bridget's Day, traditionally made out of rushes. 
🇺🇸 To USA: Standard shipping is US$10.95. (Arrives in 9-12 days)
.
🇨🇦 To Canada: Standard shipping is $15.95 (Arrives in 9-12 days).
🇮🇪 To Ireland: Standard Shipping is €5.95 (3-5 days).
🇬🇧 To UK: Standard Shipping is €8.95 (9-12 days)
.
To rest of Europe: Standard Shipping is €11.95 (9-12 days).
To Australia/NZ: Standard Shipping is $22.95.
Expedited 3-5 day shipping is available also.
The daughters going to really love it for Christmas!
Amazing
Just the perfect gift from Ireland!
Ardboe Cross
I have purchased a good many double sided crosses from you,,as you know.. both in gold and sterling and they all do not disappoint... I love wearing them and it keeps me connected with my faith and Irish roots.. You have always attempted to advise me on which ones would be the good for my " collection" ...Thank you... I consider them "wearable investments" and hope my Grandchildren will love them as well as myself... Cannot wait to select another ....Quality and helft are what made me choode yours.. So many others I have looked at are single sided and light weight.,, I tend to be hard on jewelry so I need sturdy materials..THank you very much ..DO not change your standards Dara Lehans