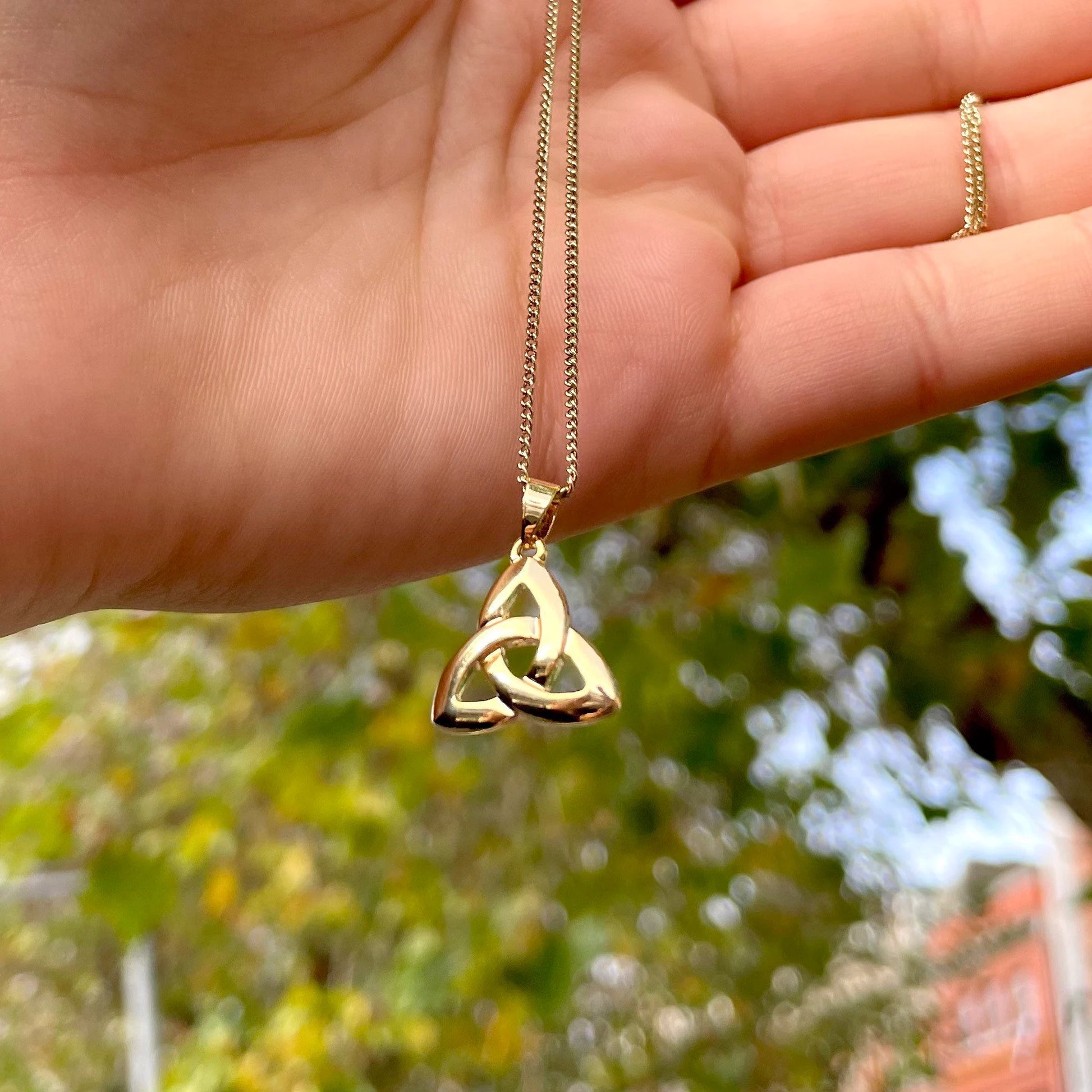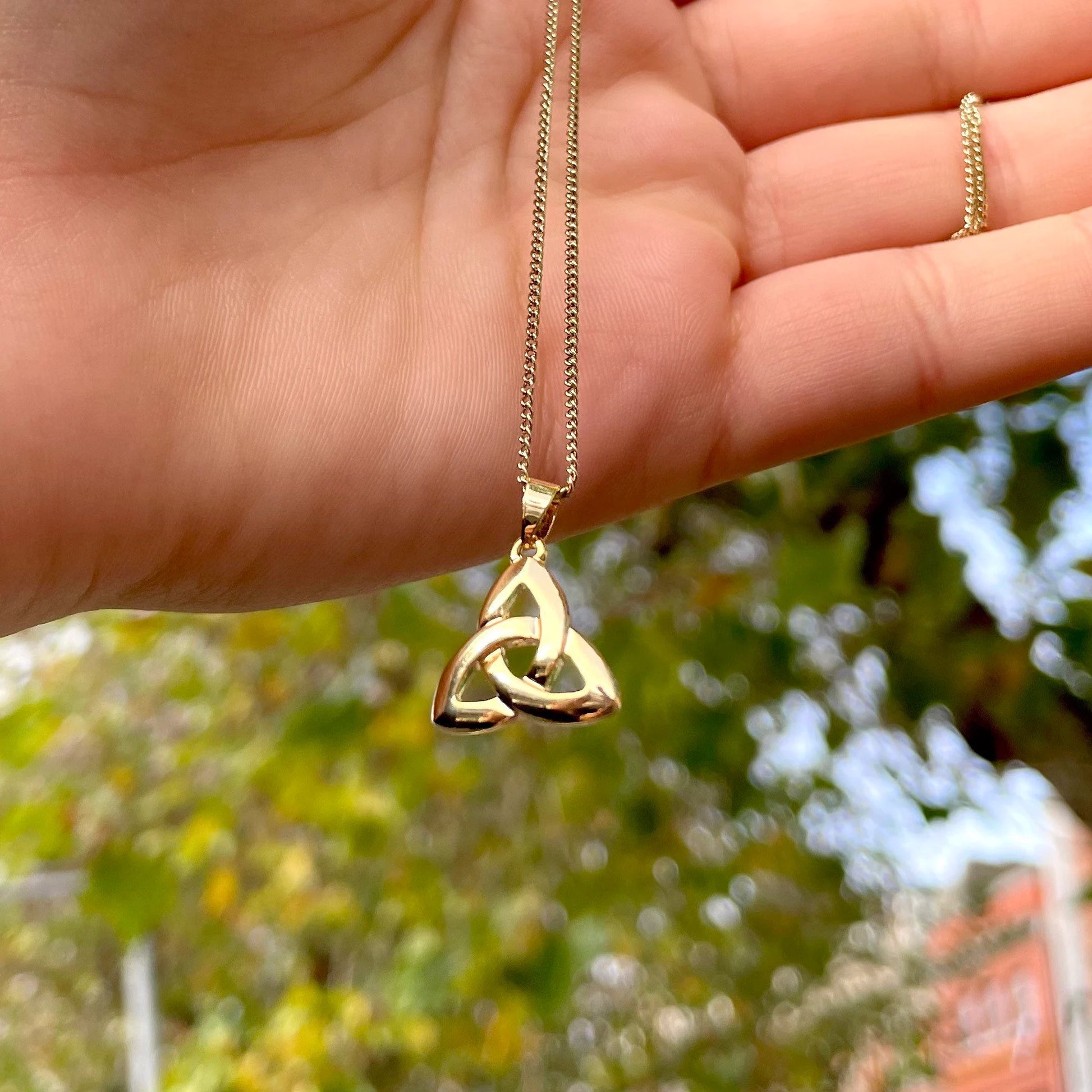 Trinity Knot Pendant Gold Plated
Sale price
$35.00
Regular price
$47.00
Tax included.
In stock, ships within 2 days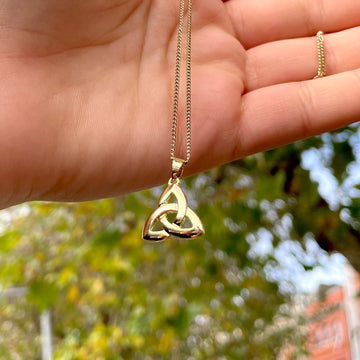 Trinity Knot Pendant Gold Plated
Sale price
$35.00
Regular price
$47.00
Product description
Shipping & Return
Customer Reviews
The luxury gold look without the gold!

- Trinity knot symbol
- Handmade in Ireland
- Gold plated
- Comes with gold plated chain
- Lovely gift for her
- Ships from Ireland
- Made in Ireland

History of the Celtic Trinity

The leaf-life trinity knot, or triquetra (from the Latin 'three-cornered), was used by early Christans to represent the Holy Trinity, though the symbol has its roots in earlier pre-Christian religions, possibly existing thousands of years beforehand. Being such as versatile symbol, the triquetra has countless interpretations - the number three was an important number in Celtic symbolism, so possible meanings also include the unity of the earth/sea/sky, the three stages of life, or various triple-deities.
It came to prominence during the period of 'insular art' in the early middle ages, which combined early Christian and Celtic art. Some of its most famous incarnations are found within the artwork of the Book of Kells. It was popularized again during the Celtic revival of the 19th Century.
🇺🇸 To USA: Standard shipping is US$10.95. (Arrives in 9-12 days)
.
🇨🇦 To Canada: Standard shipping is $15.95 (Arrives in 9-12 days).
🇮🇪 To Ireland: Standard Shipping is €5.95 (3-5 days).
🇬🇧 To UK: Standard Shipping is €8.95 (9-12 days)
.
To rest of Europe: Standard Shipping is €11.95 (9-12 days).
To Australia/NZ: Standard Shipping is $22.95.
Expedited 3-5 day shipping is available also.
The daughters going to really love it for Christmas!
Amazing
Just the perfect gift from Ireland!
Ardboe Cross
I have purchased a good many double sided crosses from you,,as you know.. both in gold and sterling and they all do not disappoint... I love wearing them and it keeps me connected with my faith and Irish roots.. You have always attempted to advise me on which ones would be the good for my " collection" ...Thank you... I consider them "wearable investments" and hope my Grandchildren will love them as well as myself... Cannot wait to select another ....Quality and helft are what made me choode yours.. So many others I have looked at are single sided and light weight.,, I tend to be hard on jewelry so I need sturdy materials..THank you very much ..DO not change your standards Dara Lehans