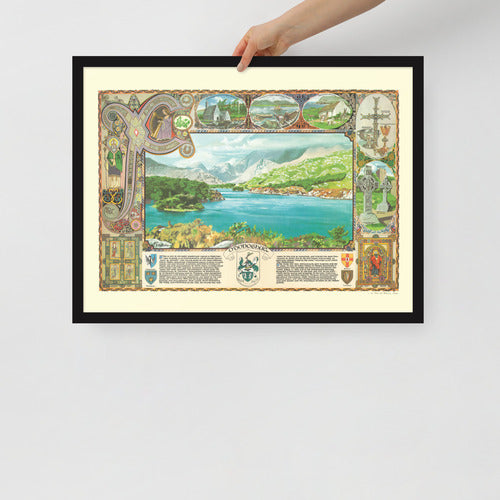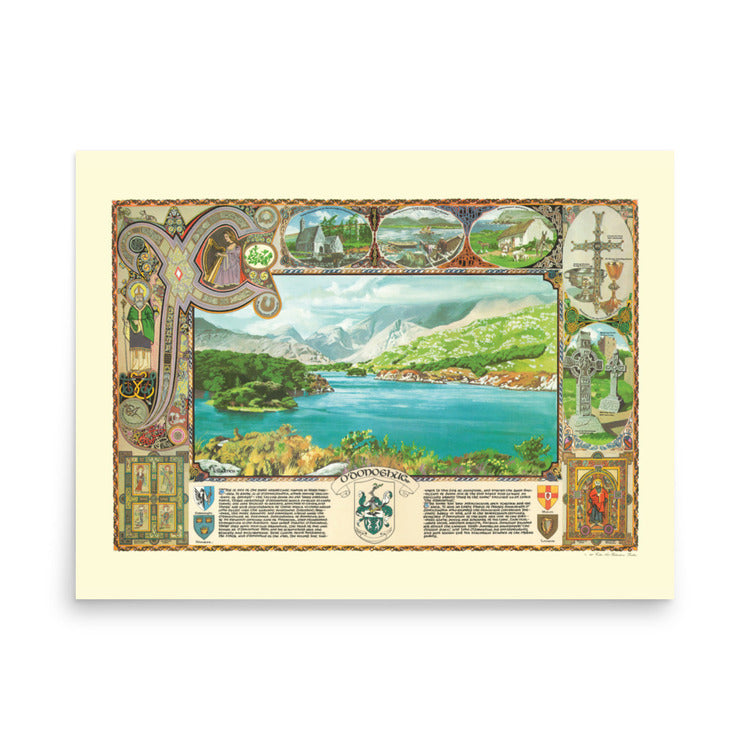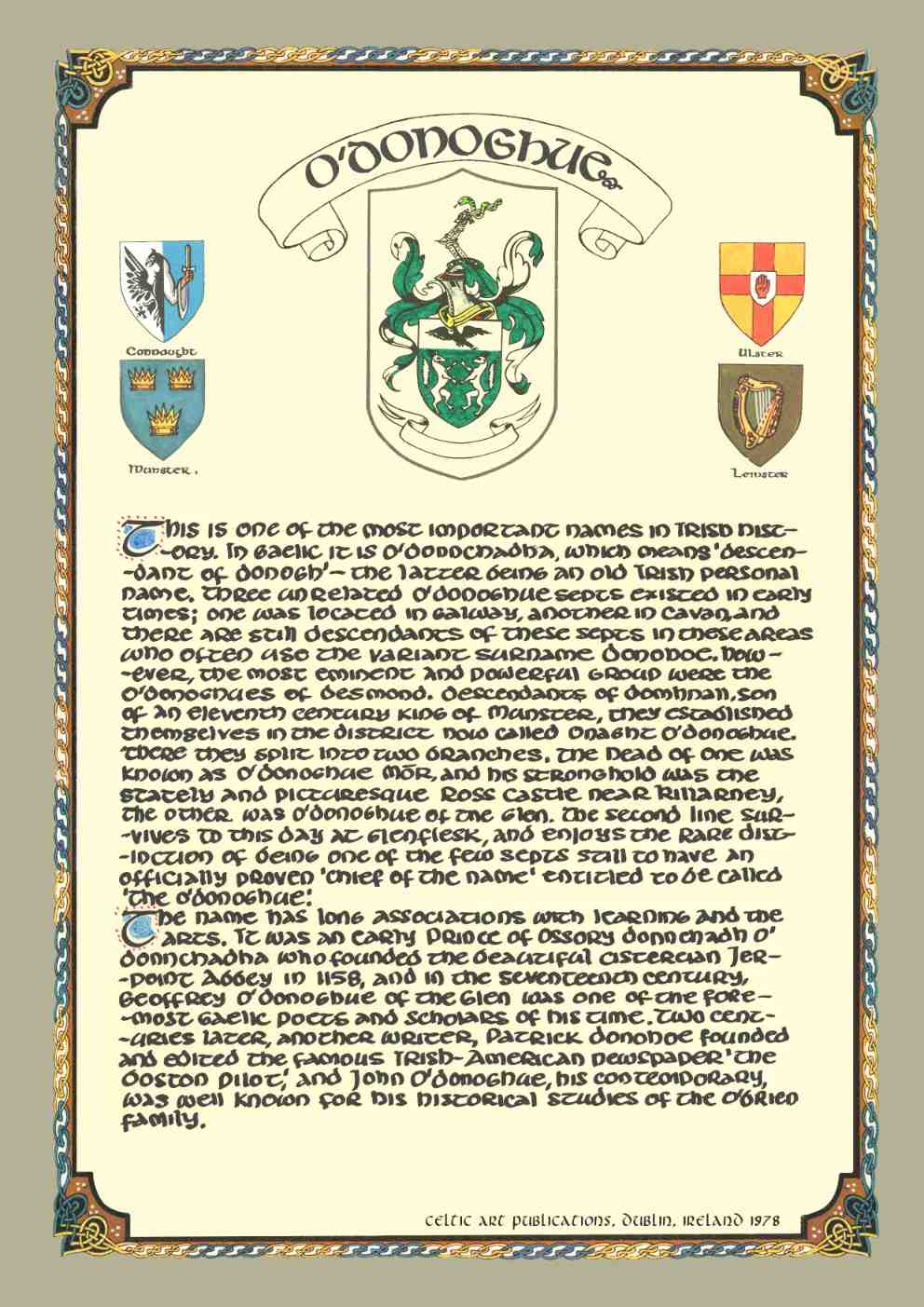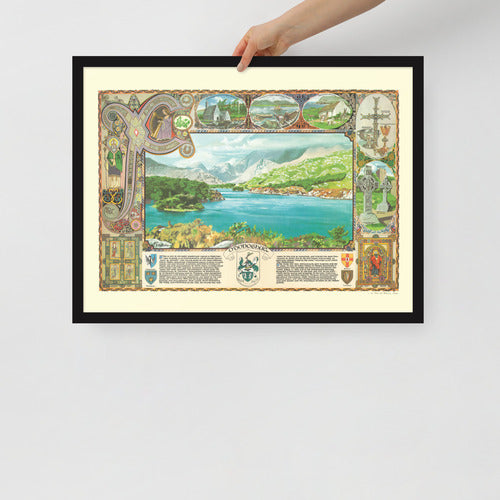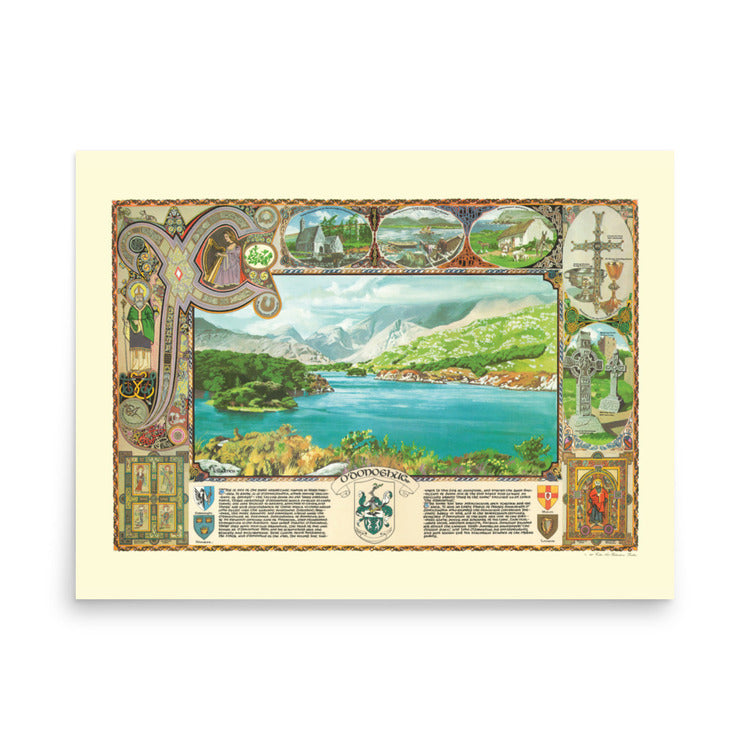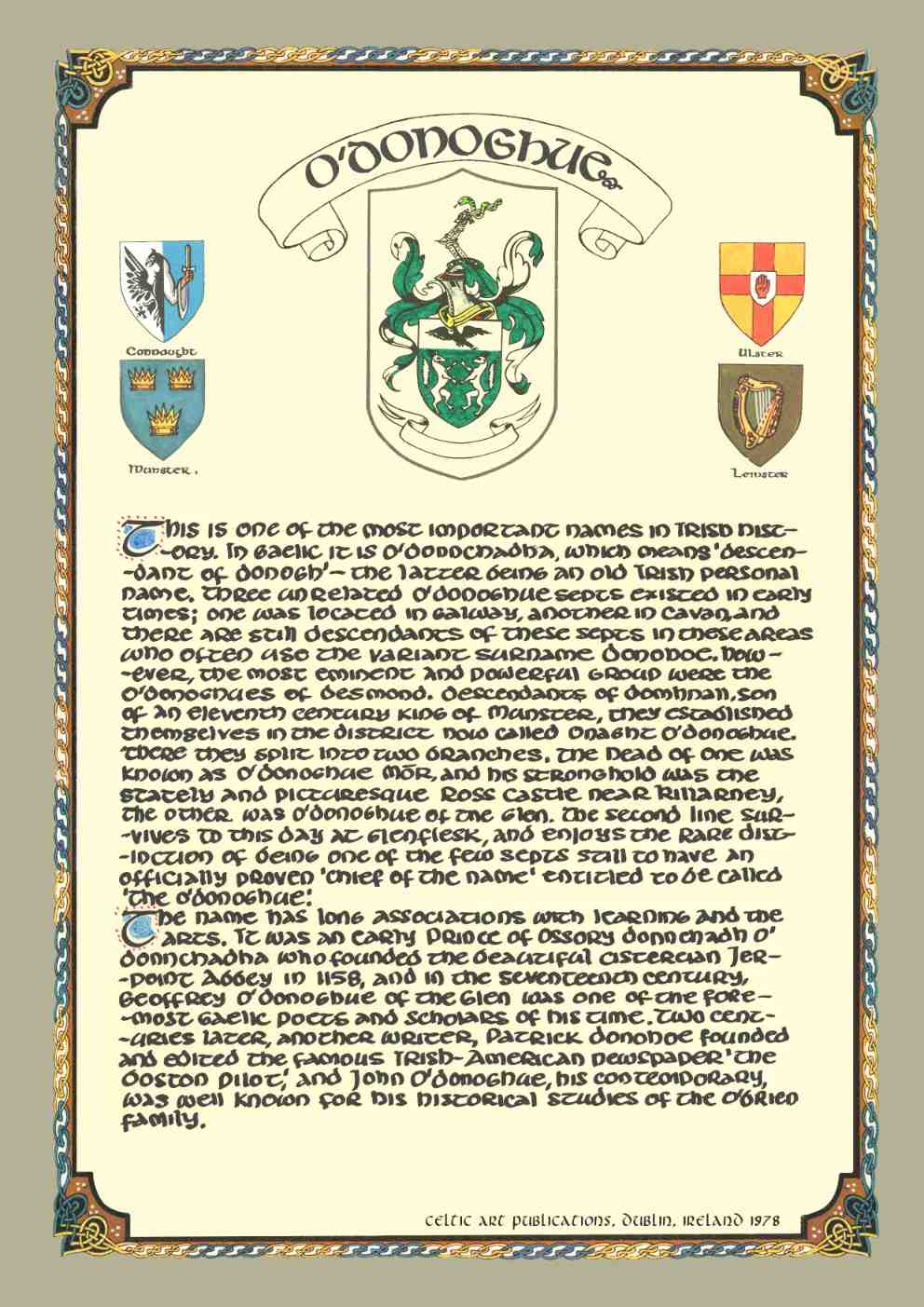 O'Donoghue Family Crest Parchment
Sale price
$10.00
Regular price
Tax included.
In stock, ships within 2 days
O'Donoghue Family Crest Parchment
Product description
Shipping & Return
Customer Reviews
O'Donoghue Family Crest
Created by Edmond McGrath (RIP) in the 1970s, these Irish prints were rediscovered in 2020 after 40 years in safe storage. Beautifully arranged in this Irish coat of arms parchment is an artistic celebration of the O'Donoghue Irish surname. The O'Donoghue family crest is illustrated at the center and surrounded by famous Celtic symbols of Ireland. These illustrations are a wonderful dedication to Irish last names.

Imagine having this beautiful story of your name hanging on your living room wall for all to study over a glass of wine, or to take a glimpse at it when having your Barry's tea on the couch. There is so much to take in. This parchment is an heirloom for many generations yet to come. It's a wonderful reminder of your Irish heritage.

On your living room wall, you will always be reminded of your Irish origins and it will be a show stopper for visiting friends and family. Presenting a family coat of arms gift is a truly special gift for the home for someone special who has that unique Irish connection.

On this parchment, the Killarney lakes take center stage above the heraldic shield whilst many Irish Celtic symbols and famous monuments surround it.

Illustrated in this parchment are:
Book of Kells inspired artwork
St.Patrick
The Cross of Cong
The Ardagh Chalice
Killarney Lakes
The Irish Harp
The Currachs of the West of Ireland
Glendalough Monastery
Blarney Castle
Traditional thatched houses of Ireland
Ahenny Cross
The Burgh O'Malley Chalice
The crests of the four provinces of Ireland: Ulster, Connaught, Leinster, Munster
The Tara Brooch
The Celtic Torc 
The O'Donoghue Coat Of Arms Story

Read the intriguing transcription of the text illustrated on the O'Donoghue family history parchment:

This is one of the most important names in Irish history. In Gaelic, it is O'Donnchadha, which means 'descendant of Donogh' - the latter being an old Irish personal name. Three unrelated O'Donoghue septs existed in early times; one was located in Galway, another in Cavan and there are still descendants of these septs in these areas who often use the variant surname Donohoe. However, the most eminent and powerful group were the O'Donoghues of Desmond, descendants of Domhnall, son of an eleventh century king of Munster, they established themselves in the district now called Onaght O'Donoghue. There they split into two branches, the head of one was known as O'Donoghue Mor and his stronghold was the stately and picturesque Ross castle near Killarney, the other was O'Donoghue of the Glen. The second line survives to this day at Glenflesk, and enjoys the rare distinction of being one of the few septs still to have an officially proven 'chief of the name' entitled to be called 'the O'Donoghue.' The name has long associations with learning and the arts. It was an early prince of Ossory Donnehadh O'Donnchadha who founded the beautiful Cisterian Jerpoint Abbey in 1158, and in the seventeenth century Geoffrey O'Donoghue of the Glen was one of the foremost Gaelic poets and scholars of his time. Two centuries later, another writer, Patrick Donohoe founded and edited the famous Irish-American newspaper 'The Boston Pilot,' and John O'Donoghue, his contemporary, was well known for his historical studies of the O'Brien family.
The Print Options For You:
Framed Print: White or black frame. Delivered framed to your home for you to hang on your wall. Two optional sizes for you. Choose from 18" x 24" or 24" x 36".

Print Only: Print rolled and shipped to your home. Two optional sizes for you. Choose from 18" x 24" or 24" x 36".

Unlimited Print Download: An ideal option if you would like your extended family to each have one. Use it digitally as your desktop wallpaper or print it for your living room. If you choose to order this, you will be sent the link to download the high quality PDF afterwards and start sharing with all the family!
A4: This consists of the family crest and the four shields of the provinces of Ireland. And the family history story.

Frequently Asked Questions About Our Irish Prints

I purchased a digital download but I didn't receive anything
Once you purchase it, we will email you the high resolution print file within the day. We advise that you use thicker paper or parchment paper to get the best quality results.
Do you sell heraldic shields?
Yes we do. Check out our full range of shields for families here. You can also contact us with any queries and Aidan will be happy to advise you.
My family name is not in your collection. Can you make one for me?
Currently, we have 180 most common Irish names in stock. We do plan to expand our range so please let us know what name you would like.
🇺🇸 To USA: Standard shipping is US$10.95. (Arrives in 9-12 days)
.
🇨🇦 To Canada: Standard shipping is $15.95 (Arrives in 9-12 days).
🇮🇪 To Ireland: Standard Shipping is €5.95 (3-5 days).
🇬🇧 To UK: Standard Shipping is €8.95 (9-12 days)
.
To rest of Europe: Standard Shipping is €11.95 (9-12 days).
To Australia/NZ: Standard Shipping is $22.95.
Expedited 3-5 day shipping is available also.
Sweeney family crest
Beautiful design and product. Interesting to know the family history
Very happy with the plaque!
Cost of Arms Double Family Shield
Shield came out beautifully & Aidan was very helpful & responsive
Wedding surprise !
Coat of arms was a perfect gift! Everything was exactly as expected, great product and service .
Family Crest Parchment
Had ordered this for an 80th birthday. There was a problem getting the size frame I ordered. Aidan offered me the next size up at the same price and made sure it was hand delivered on time for the party. Great service and would definitely recommend them.