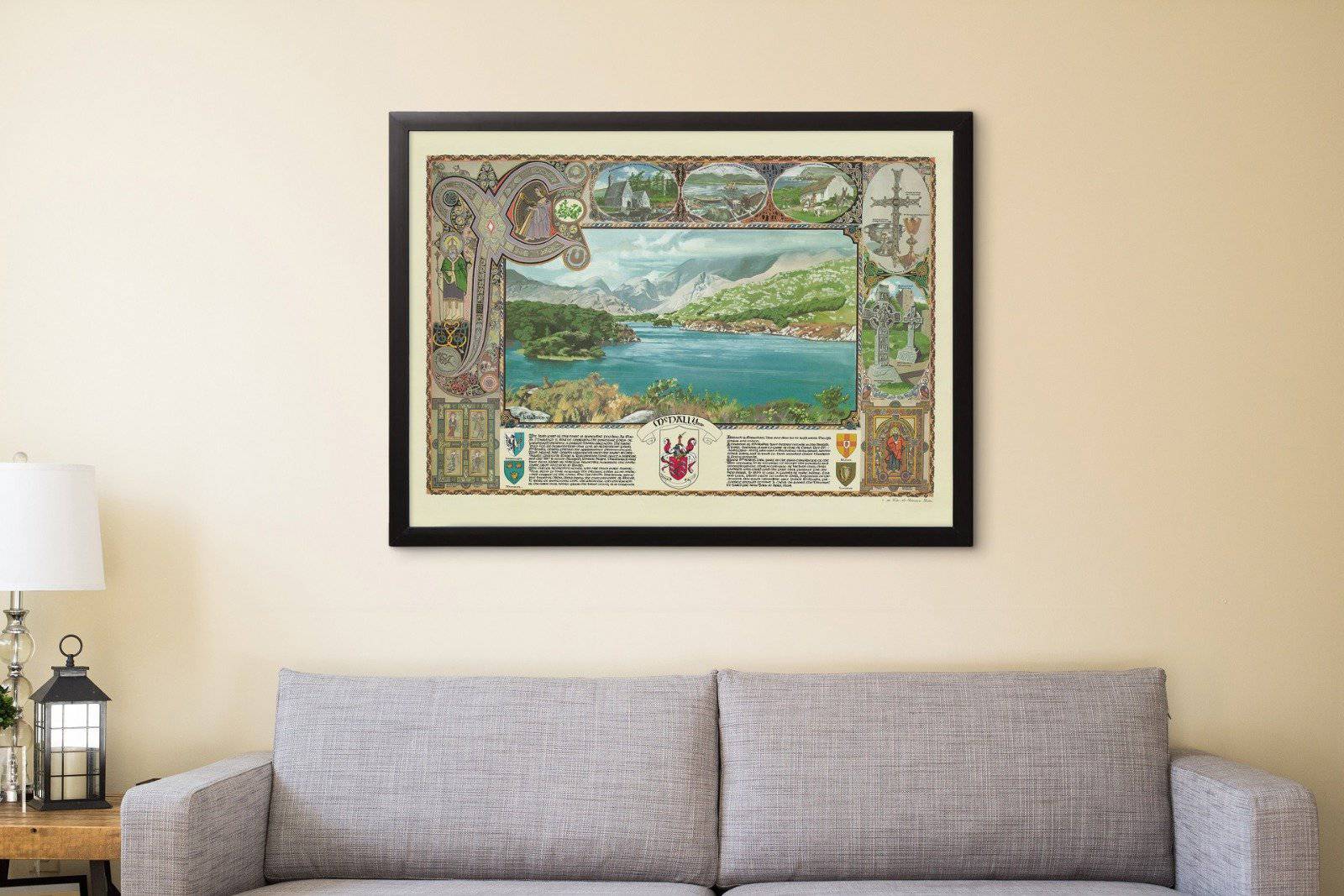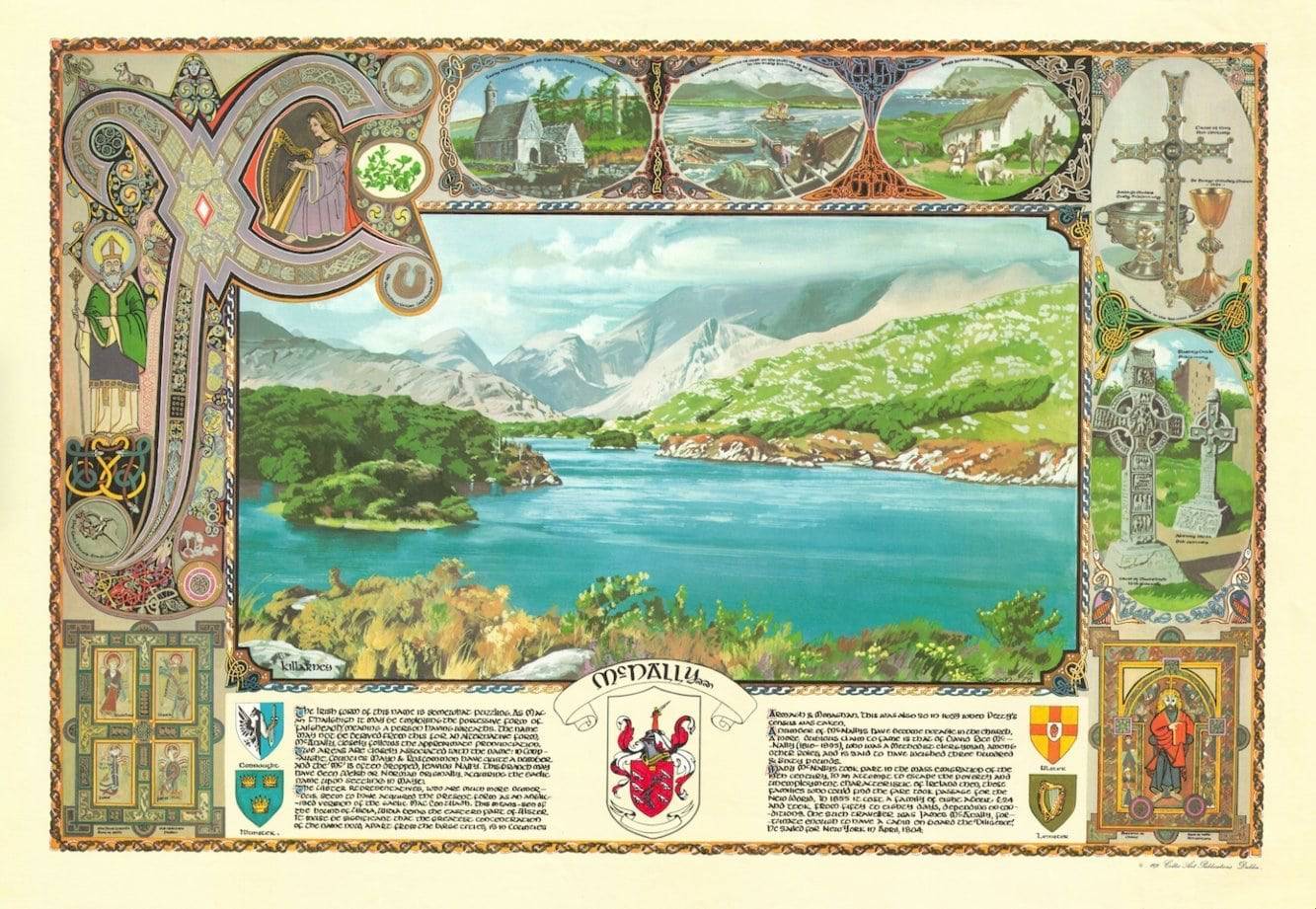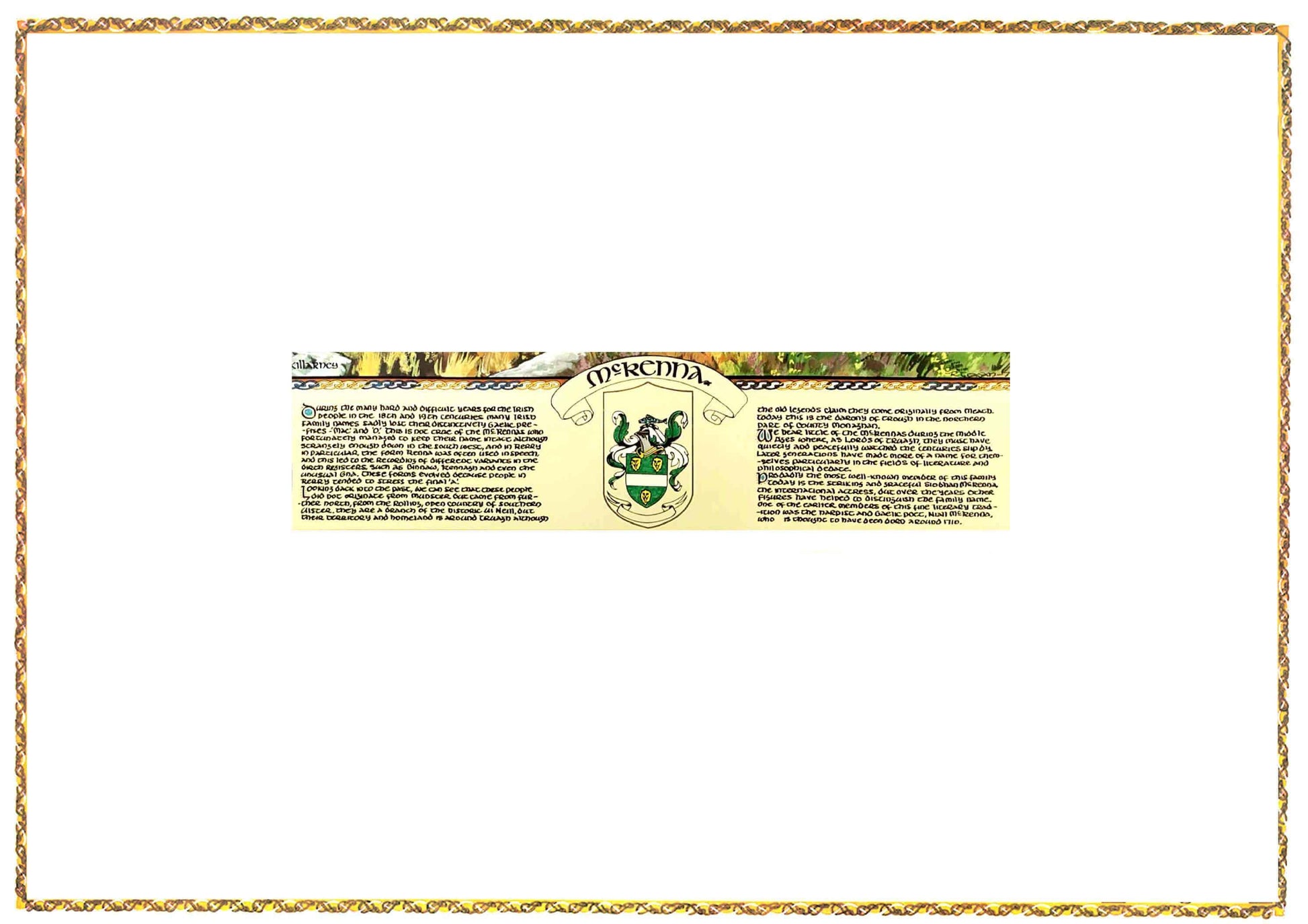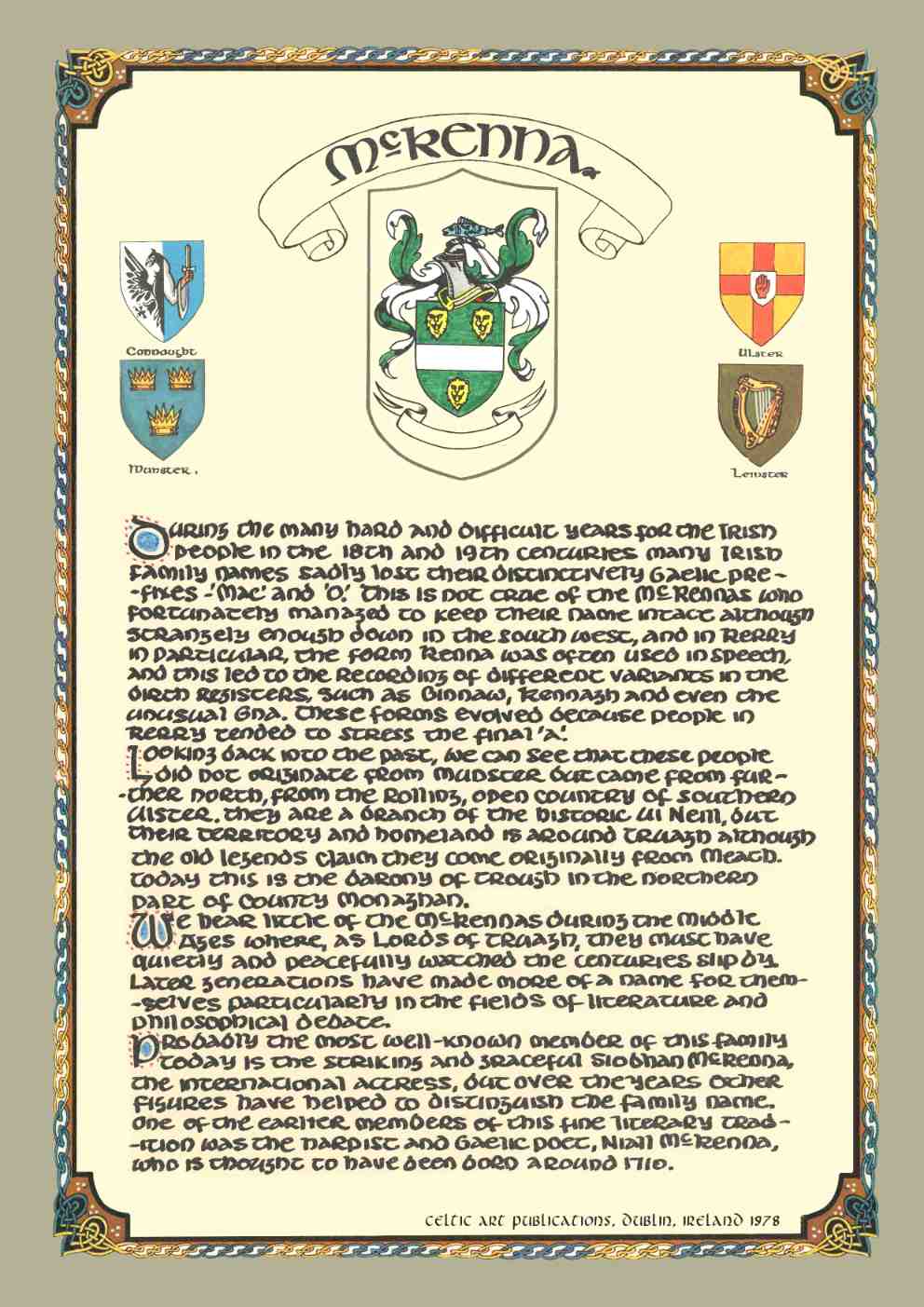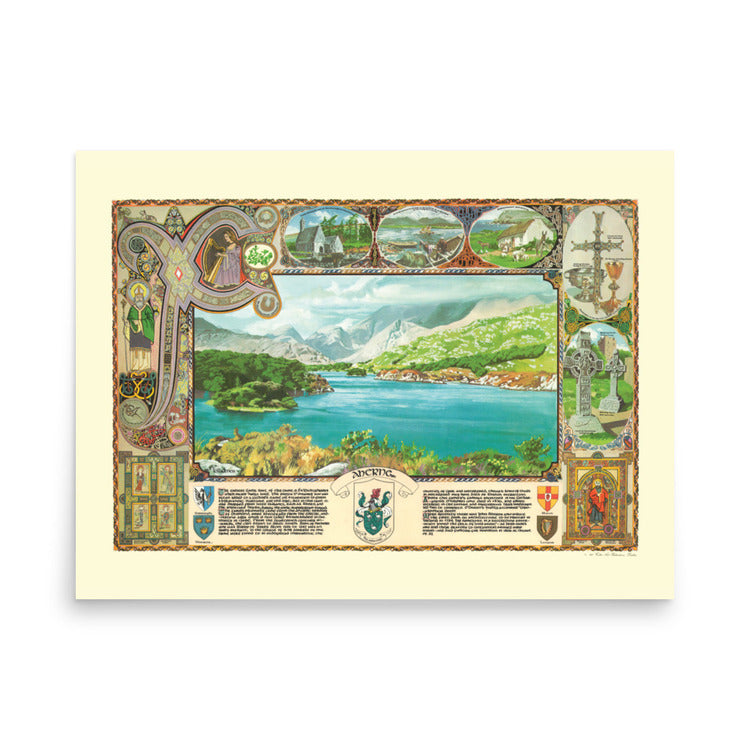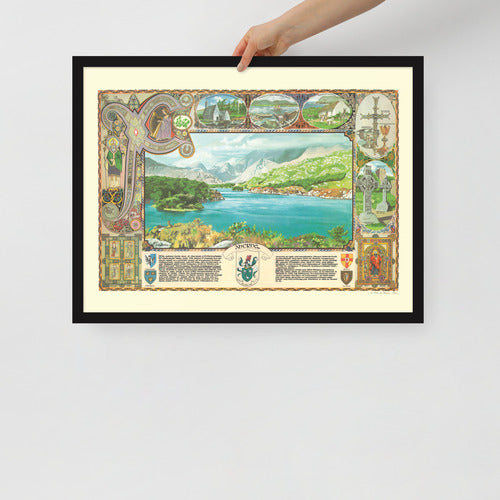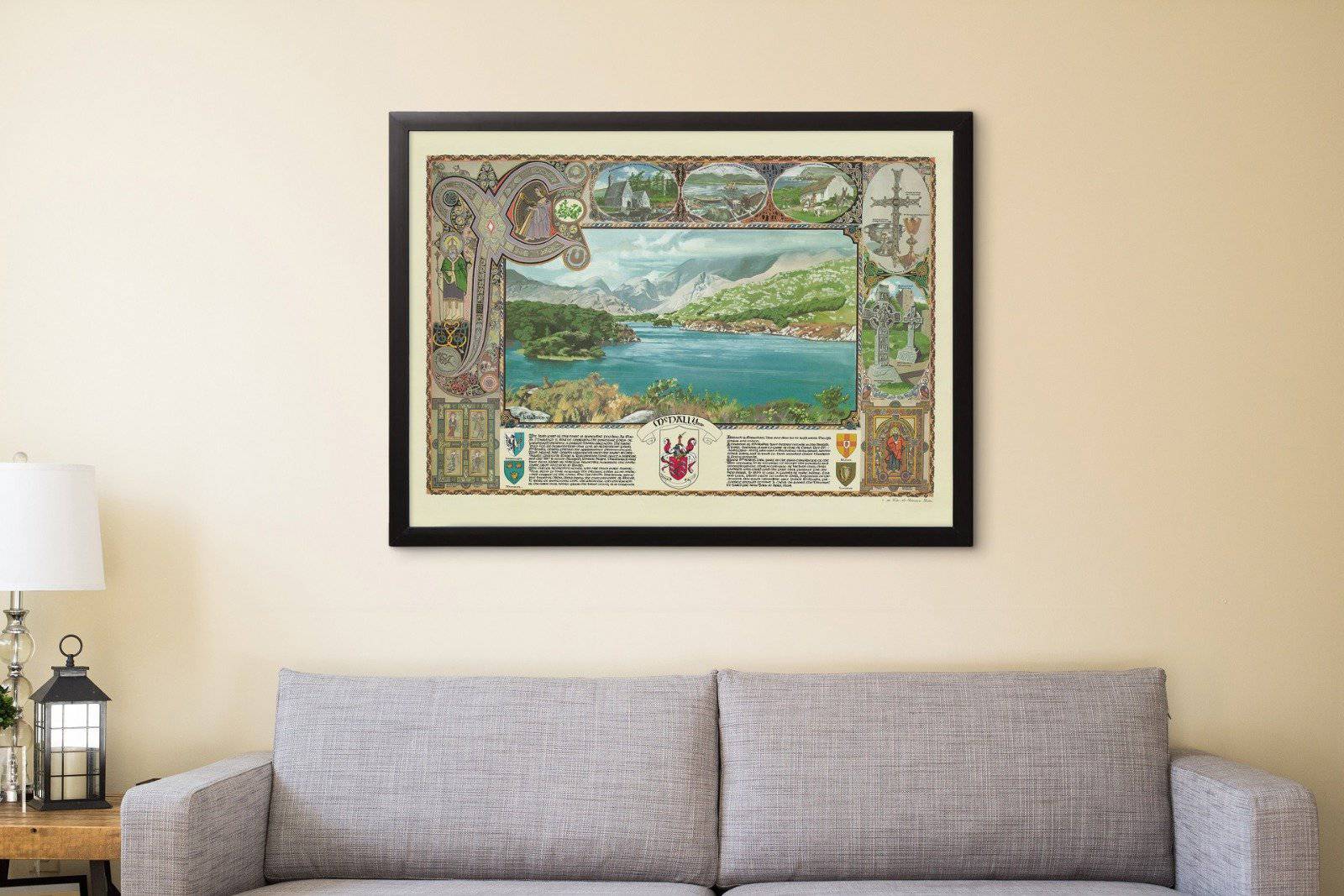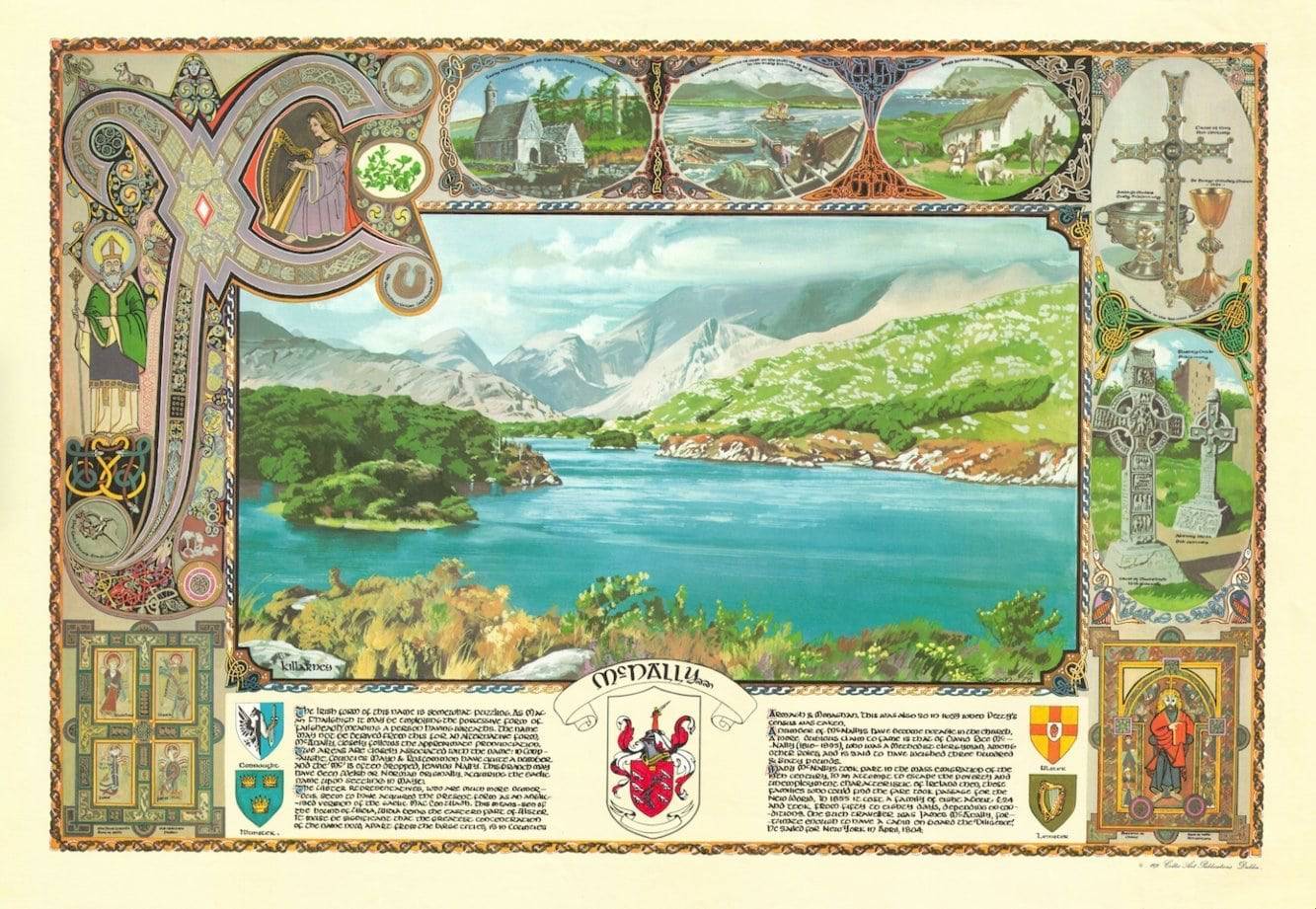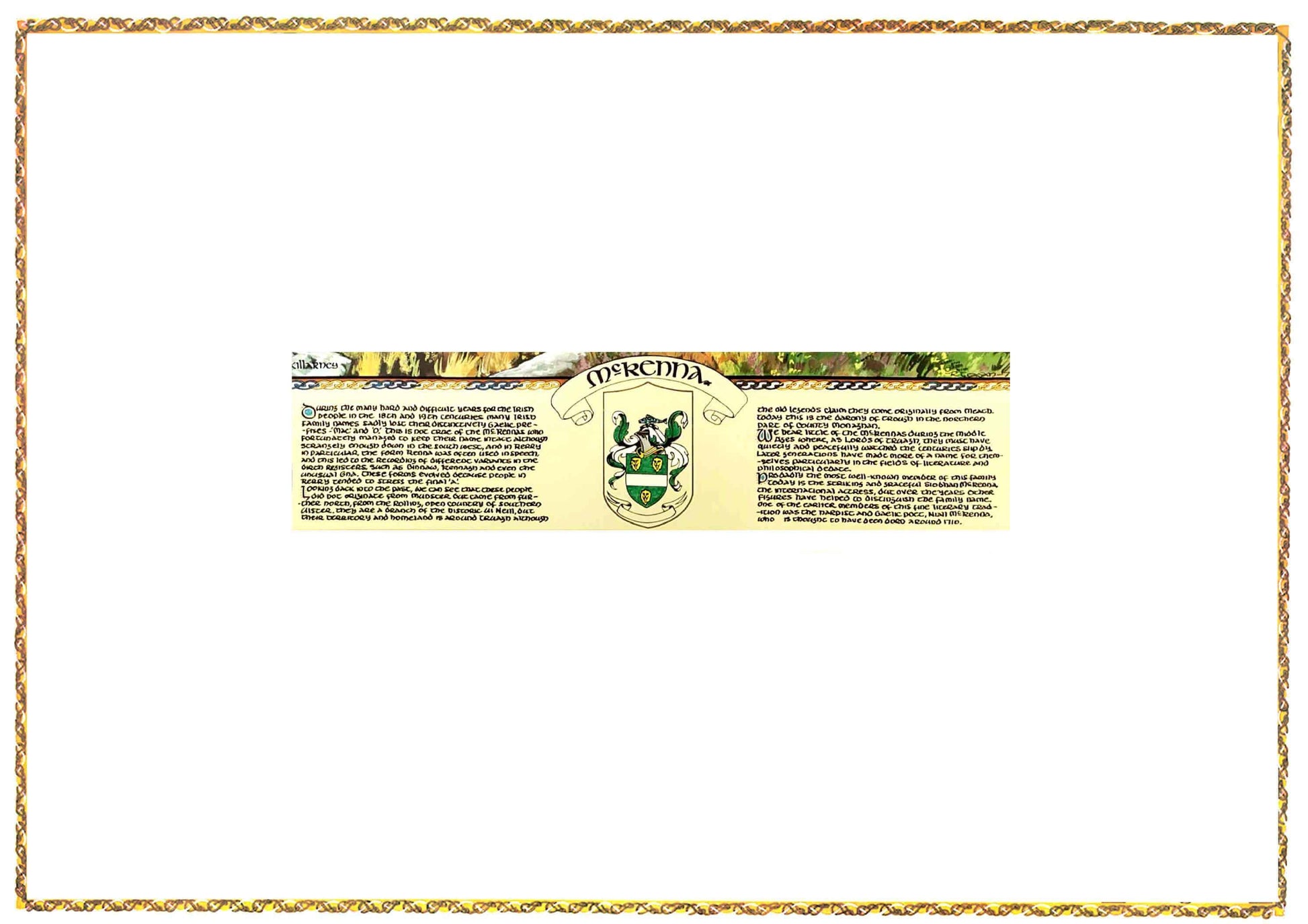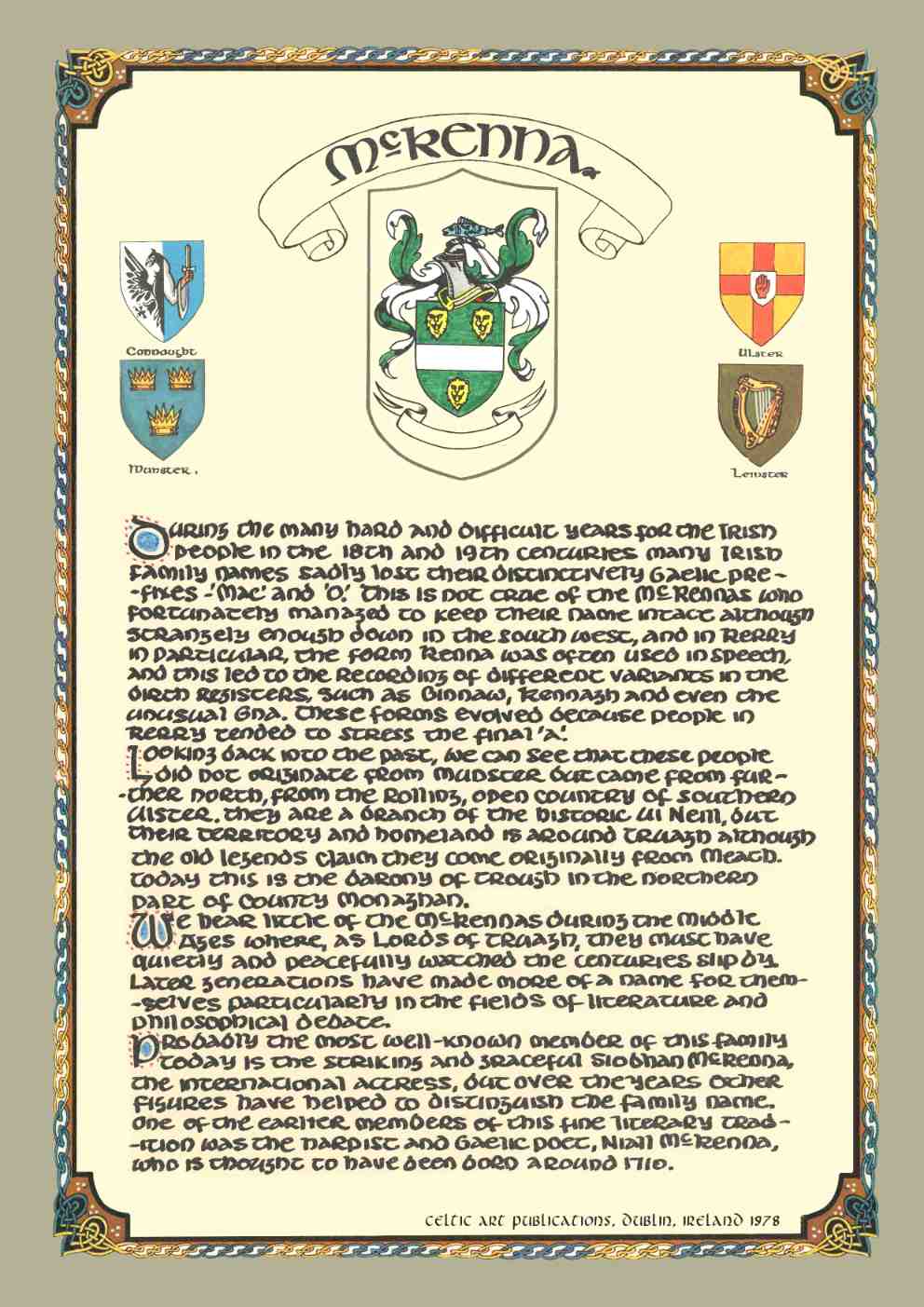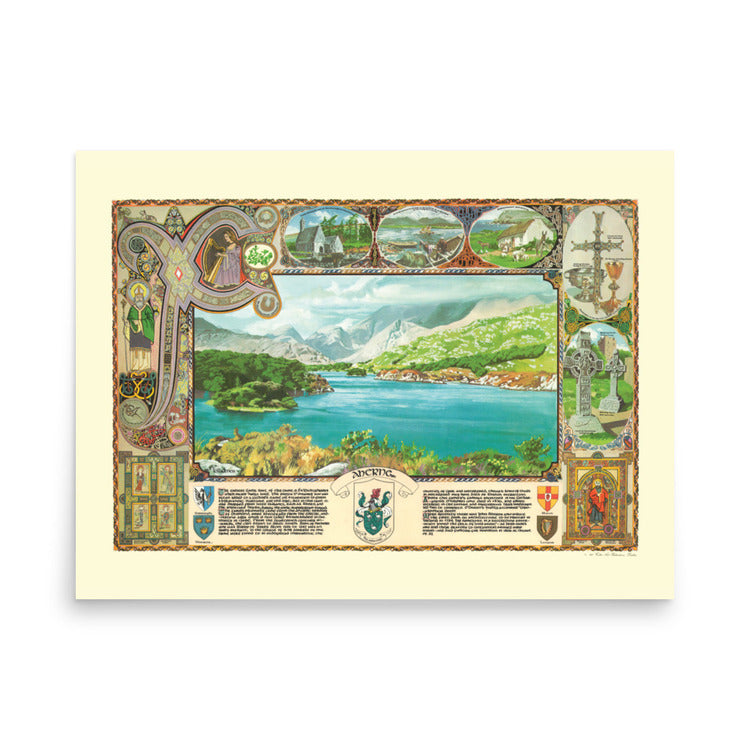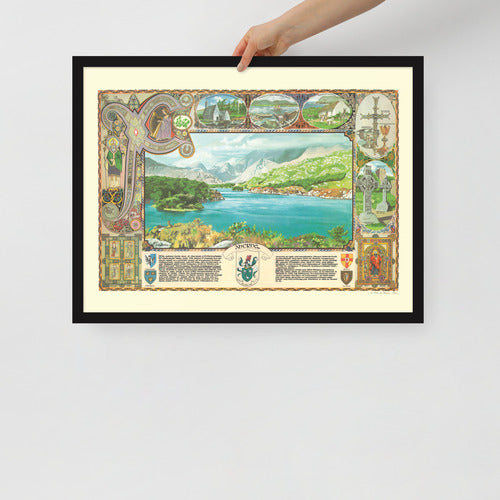 McKenna Family Crest Parchment
Sale price
$10.00
Regular price
Tax included.
In stock, ships within 2 days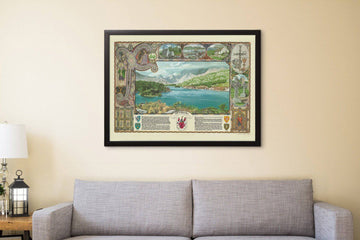 McKenna Family Crest Parchment
Product description
Shipping & Return
Customer Reviews
McKenna Family Crest  
Beautifully arranged in this parchment and created by Edmond McGrath (RIP) in the 1970s and only rediscovered after 40 years in safe storage, we bring you a very special illustration that encompasses symbols of your Irish tribal heritage. The owner of this name is by definition a child of Ireland in culture and in blood!
On this A1 (23.4 x 33.1 inch) sized parchment, your special Irish Coat of Arms is deservedly embellished by all the many ancient Celtic inspirations of Irish artists, scholars and architects. At the centre you see the backdrop of the Kerry landscape with her scenic Killarney lakes, whilst other bordering elements are the craftsmanship of sculptors and builders who managed to create works of art with the most basic of tools. With this parchment you will see your family name as an integral part of the Irish story which will forever remain an integral part of Irish heritage.
This parchment can be an heirloom for many generations yet to come as your family thrive into the future making their own mark on history as your ancestors did. Your unique Irish family Coat of Arms is a wonderful creative reminder that your name has an Irish tribal identity with its origin, derivatives and impact on the culture of Ireland and worldwide. All of this written in Celtic calligraphy. The design inspiration is about Ireland's story and how your family have made a mark on Ireland history. 
Features of Ireland illustrated include:
Book of Kells inspired artwork
St.Patrick
The Cross of Cong
The

 

Ardagh Chalice
Killarney Lakes
The

 

Irish Harp
The Currachs of the West of Ireland
Blarney Castle
Traditional thatched houses of Ireland
Ahenny Cross
The Burgh O'Malley Chalice
The crests of the four provinces of Ireland: Ulster, Connaught, Leinster, Munster
The Tara Brooch
The Celtic Torc 
The

 McKenna 

Coat Of Arms Story

Read the intriguing transcription of the text illustrated on the McKenna family history parchment:
During the many hard and difficult years for the Irish people in the 18th and 19th centuries many Irish family names sadly lost their distinctively Gaelic prefixes- 'Mac' and 'O.' This is not true of the McKennas who fortunately managed to keep their name intact although strangely enough down in the South West, and in Kerry in particular, the form Kenna was often used in speech, and this led to the recordings of different variants in the birth registers, such as Binnaw, Kennagh, and even the unusual Gna. These forms evolved because people in Kerry tended to stress the final 'A'. Looking back into the past, we can see that these people did not originate from Munster but came from further North, from the Rolling, open Country of Southern Ulster. They are a branch of the historic Ul Neill, but their territory and homeland is around Truagh although the old legends claim they come originally from Meath. Today this is the Barony of Trough in the Northern part of County Monaghan. We bear little of the McKennas during the Middle Ages where, as Lords of Truagh, they must have quietly and peacefully watched the centuries slip by. Later generations have made more of a name for themselves particularly in the fields of literature and philosophical debate. Probably the most well-known member of this family today is the striking and graceful Siobhan McKenna, the international actress, but over the years other figures have helped to distinguish the family name. One of the earlier members of this fine literary tradition was the harpist and Gaelic poet, Niall McKenna, who is thought to have been born a around 1710.
The Print Options For You:
Framed Print: White or black frame. Delivered framed to your home for you to hang on your wall. Two optional sizes for you. Choose from 18" x 24" or 24" x 36".

Print Only: Print rolled and shipped to your home. Two optional sizes for you. Choose from 18" x 24" or 24" x 36".

Unlimited Print Download: An ideal option if you would like your extended family to each have one. Use it digitally as your desktop wallpaper or print it for your living room. If you choose to order this, you will be sent the link to download the high quality PDF afterwards and start sharing with all the family!
A4: This consists of the family crest and the four shields of the provinces of Ireland. And the family history story.

Frequently Asked Questions About Our Irish Prints

I purchased a digital download but I didn't receive anything
Once you purchase it, we will email you the high resolution print file within the day. We advise that you use thicker paper or parchment paper to get the best quality results.
Do you sell heraldic shields?
Yes we do. Check out our full range of shields for families here. You can also contact us with any queries and Aidan will be happy to advise you.
My family name is not in your collection. Can you make one for me?
Currently, we have 180 most common Irish names in stock. We do plan to expand our range so please let us know what name you would like.


🇺🇸 To USA: Standard shipping is US$10.95. (Arrives in 9-12 days)
.
🇨🇦 To Canada: Standard shipping is $15.95 (Arrives in 9-12 days).
🇮🇪 To Ireland: Standard Shipping is €5.95 (3-5 days).
🇬🇧 To UK: Standard Shipping is €8.95 (9-12 days)
.
To rest of Europe: Standard Shipping is €11.95 (9-12 days).
To Australia/NZ: Standard Shipping is $22.95.
Expedited 3-5 day shipping is available also.
Sweeney family crest
Beautiful design and product. Interesting to know the family history
Very happy with the plaque!
Cost of Arms Double Family Shield
Shield came out beautifully & Aidan was very helpful & responsive
Wedding surprise !
Coat of arms was a perfect gift! Everything was exactly as expected, great product and service .
Family Crest Parchment
Had ordered this for an 80th birthday. There was a problem getting the size frame I ordered. Aidan offered me the next size up at the same price and made sure it was hand delivered on time for the party. Great service and would definitely recommend them.