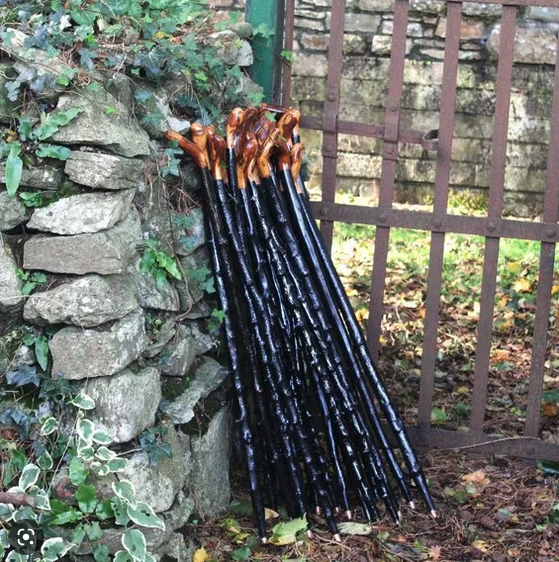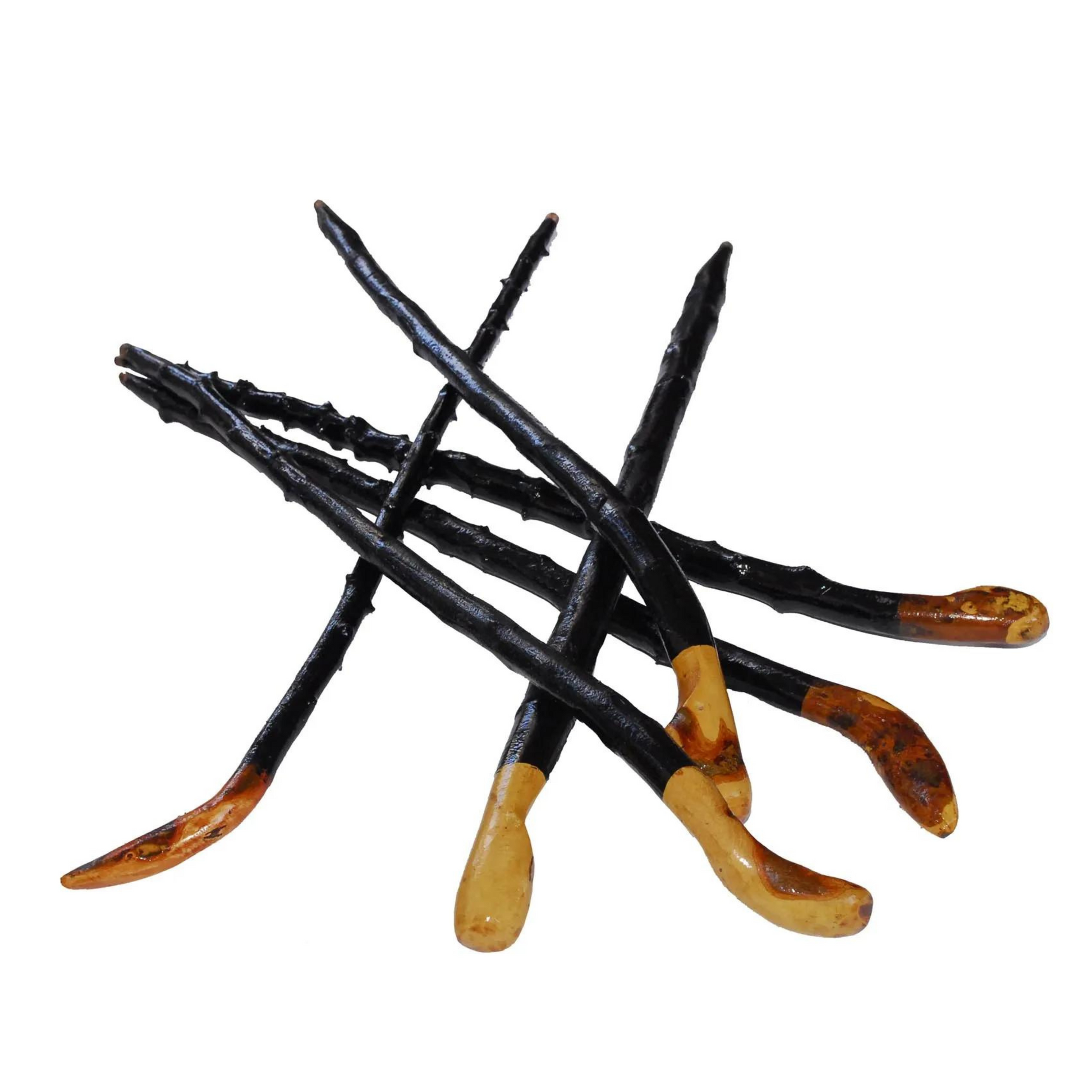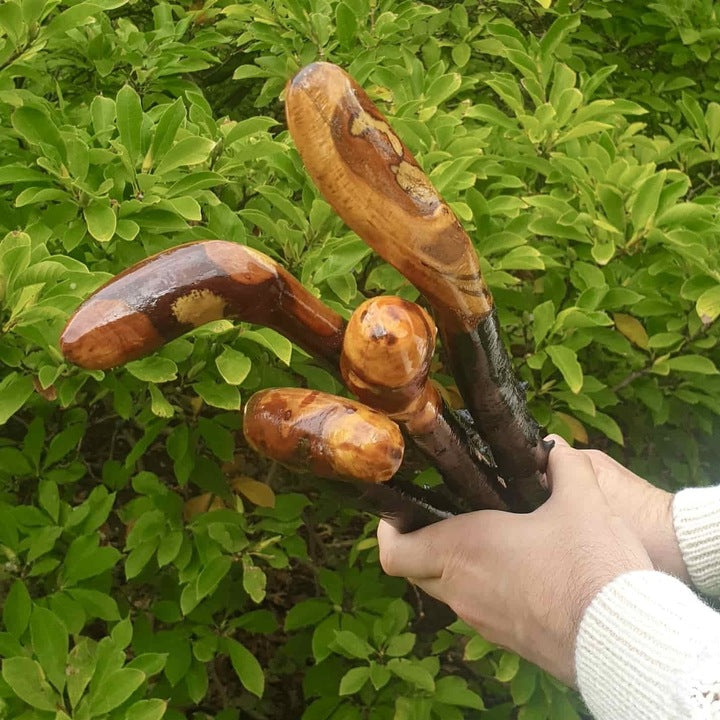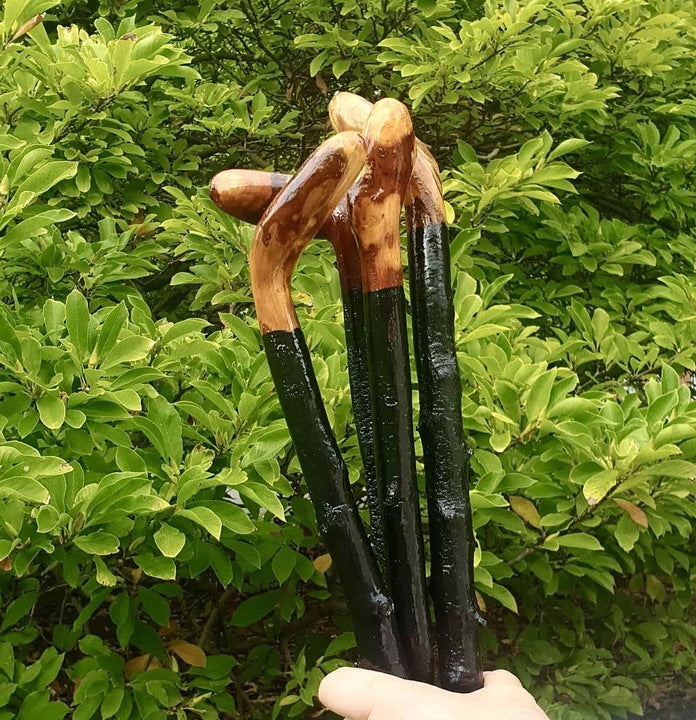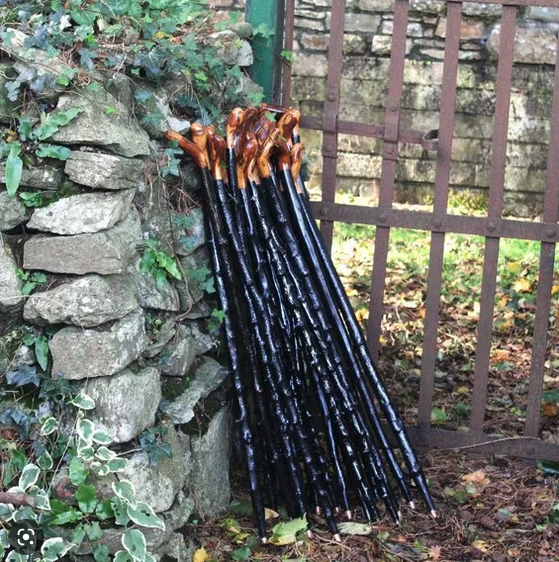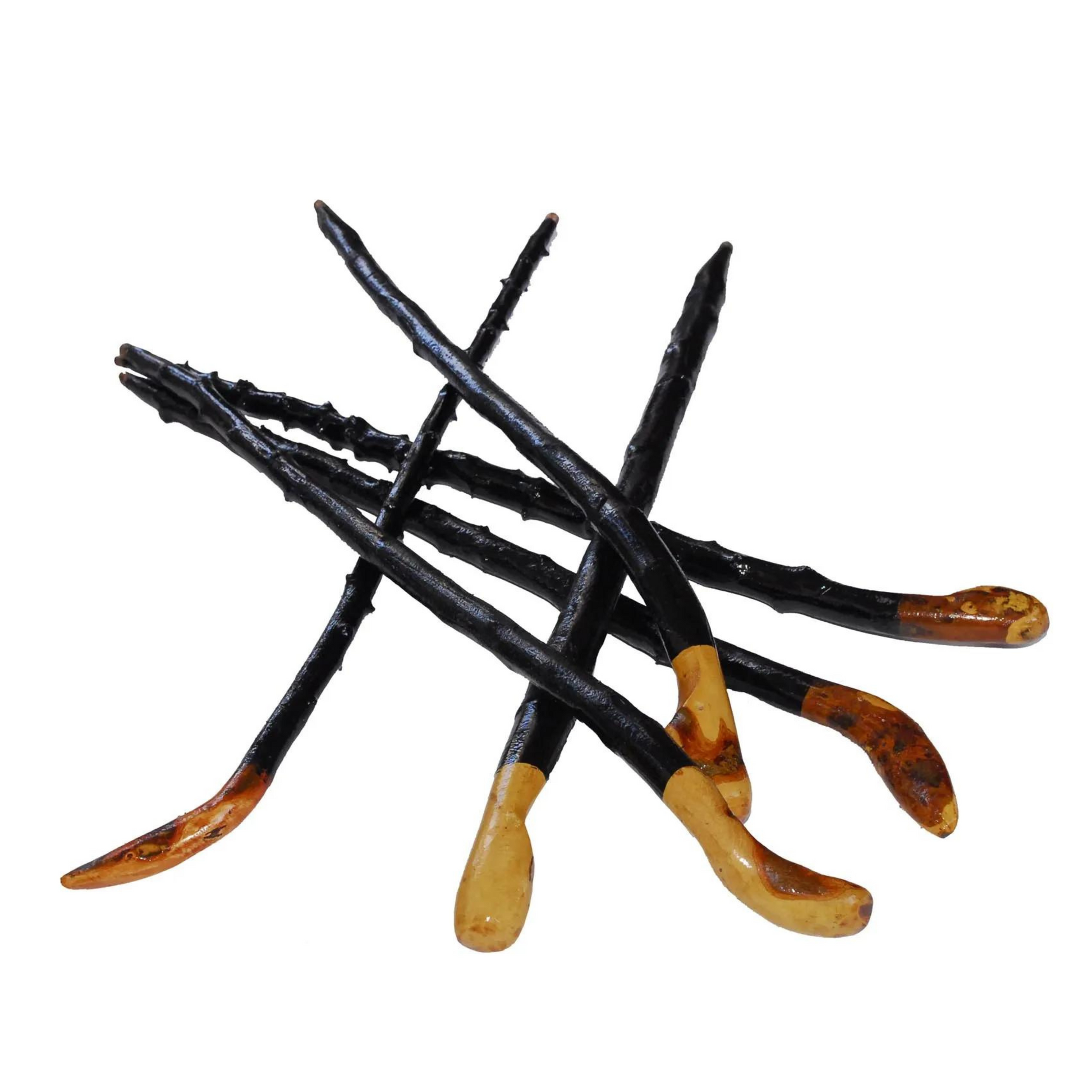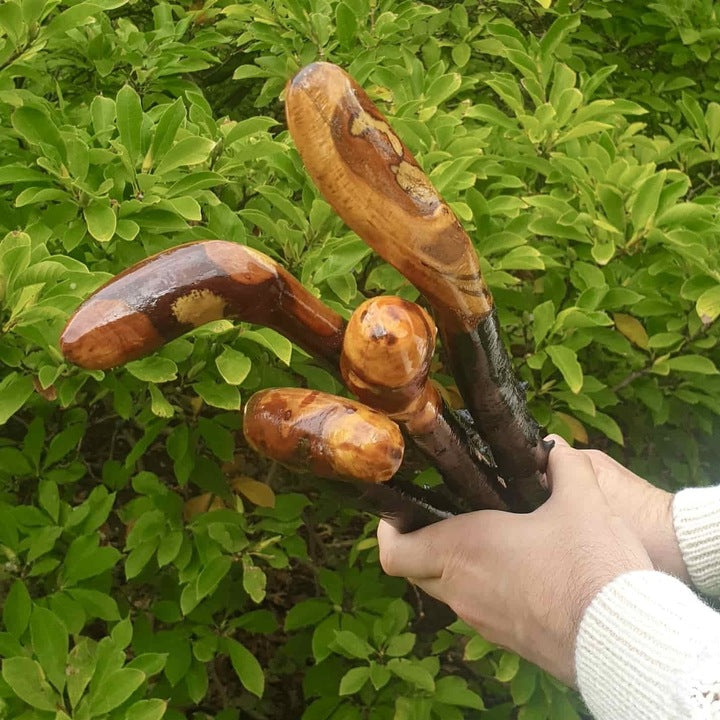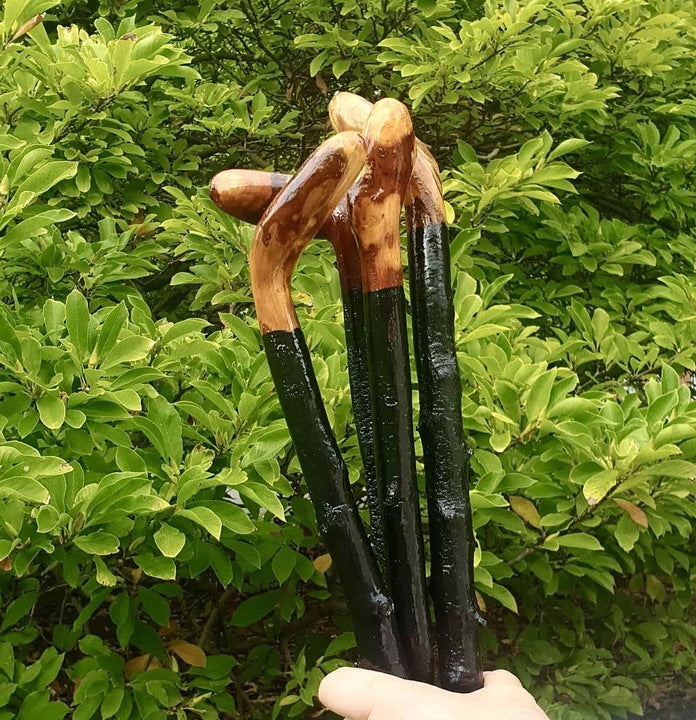 Blackthorn Walking Stick Shillelagh
Sale price
$130.00
Regular price
Tax included.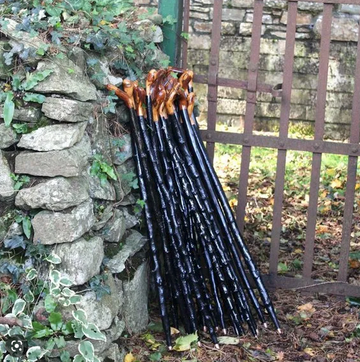 Blackthorn Walking Stick Shillelagh
Product description
Shipping & Return
Customer Reviews
BEST SELLER!!
If you're looking for a quality Irish Blackthorn Walking Stick, look no further than our finely crafted in Ireland shillelagh! Our blackthorn walking stick shillelaghs are handcrafted by skilled artisans, and each one is unique. They make a great addition to any walking stick collection and they're perfect for use on a trail or in the garden.

This is really is a beautifully handcrafted traditional blackthorn Irish Walking Stick from Ireland. Shipping is included in price.

 It is made from harvested blackthorn bush in Ireland making it a strong and durable walking or hiking accessory.

THE PROTECTIVE FINISH OF THE SHAFT: you can choose  either option:

Linseed finish: the natural look. brighter shaft showing the natural native blackthorn. it's got an oily base and protect the stick.
or
Black oil based paint: this give it the black look like in the photos. over time, if you do hit the stick off objects then you'll take the paint off it. but, you can repaint yourself.

Which is most popular? Linseed. people like to keep the natural look.

Every stick is unique and vary a little. and that's the beautiful thing about it.

———————————-
BENEFITS:
☘️ Crafted from high quality solid Irish Blackthorn wood harvested from County Wicklow that's been cured over a few years to strengthen.

☘️ This Blackthorn walking stick offers a longevity rarely seen in walking canes.

☘️ Tough, resilient and naturally resistant. Only the best of support and quality.

☘️ A true piece of Ireland that we have been sending to many walkers across the world, with no returns.

☘️ As they are all handcrafted, they naturally vary a little in length but generally the length runs between 34" - 38" (91 to 96cm). if you feel it's a little long, then you can decide to cut some inches off. (if you require one that is longer, say above 40 inches please send me a message and I'll see what I can do)

☘️ At the bottom is a rubber ending for grip when walking. if you want to take it off, you can. but we will supply it with it on for you and you can choose to attach or not.

☘️ Personal service. Aidan is your main contact at the shop and is available to answer your questions.


SPECIFICATIONS:
—————————-
☘️ 34-38 inches high (89 to 91cm)
☘️ We ship it from Dublin, Ireland, with tracked express shipping.
☘️ Top class quality, made in Wicklow, Ireland.
☘️ rubber grip at the bottom
☘️ built to last
 
Watch this video of the Shillelagh by Aidan from Gifts of Ireland:
Frequently Asked Questions About Shillelaghs
What is a Shillelagh?
A shillelagh is a long stick made from blackthorn with a round knob at the top for a grip. The Shillelagh has its originates from the forests of County Wicklow. It is made from Irish blackthorns and it is a durable walking stick. Hundreds of years ago, the Shillelagh was used as a fighting weapon but these days it is common for people to use it for walks in the woods.

How do you pronounce Shillelagh?
Shillelagh is pronounced as shill-ay-lee. It is the English version of the original name in Gaelic called sail éille. Sail means 'willow' and éille means 'leash'.
What is a shillelagh used for?
In the 18th and 19th century, Shillelaghs were used for fighting by gangs in Ireland. They were an effective fighting weapon. The tradition of stick fighting was called Bataireacht in Gaelic. These days they are used for a walking aid. They are a useful cane to have when going for a stroll.
🇺🇸 To USA: Standard shipping is US$10.95. (Arrives in 9-12 days)
.
🇨🇦 To Canada: Standard shipping is $15.95 (Arrives in 9-12 days).
🇮🇪 To Ireland: Standard Shipping is €5.95 (3-5 days).
🇬🇧 To UK: Standard Shipping is €8.95 (9-12 days)
.
To rest of Europe: Standard Shipping is €11.95 (9-12 days).
To Australia/NZ: Standard Shipping is $22.95.
Expedited 3-5 day shipping is available also.
I'm really happy with my Blackthorn Shillelagh!! Perfect size, looks a feels great. I was very surprised at how fast I received my package. I highly reccomend!!! Thanks!
Blackthorn Walking Stick Shillelagh
Shillelagh
Exactly as advertised As we couldn't get to visit this year I had a piece of Ireland sent for my husbands birthday
Thankyou
Great stick
Exactly what I wanted . Well made , feels great in my hand and perfect length. Fast shipping . Thank you
Shillelagh
Item was as advertised and quite lovely! Arrived in good time and condition. Thanks!