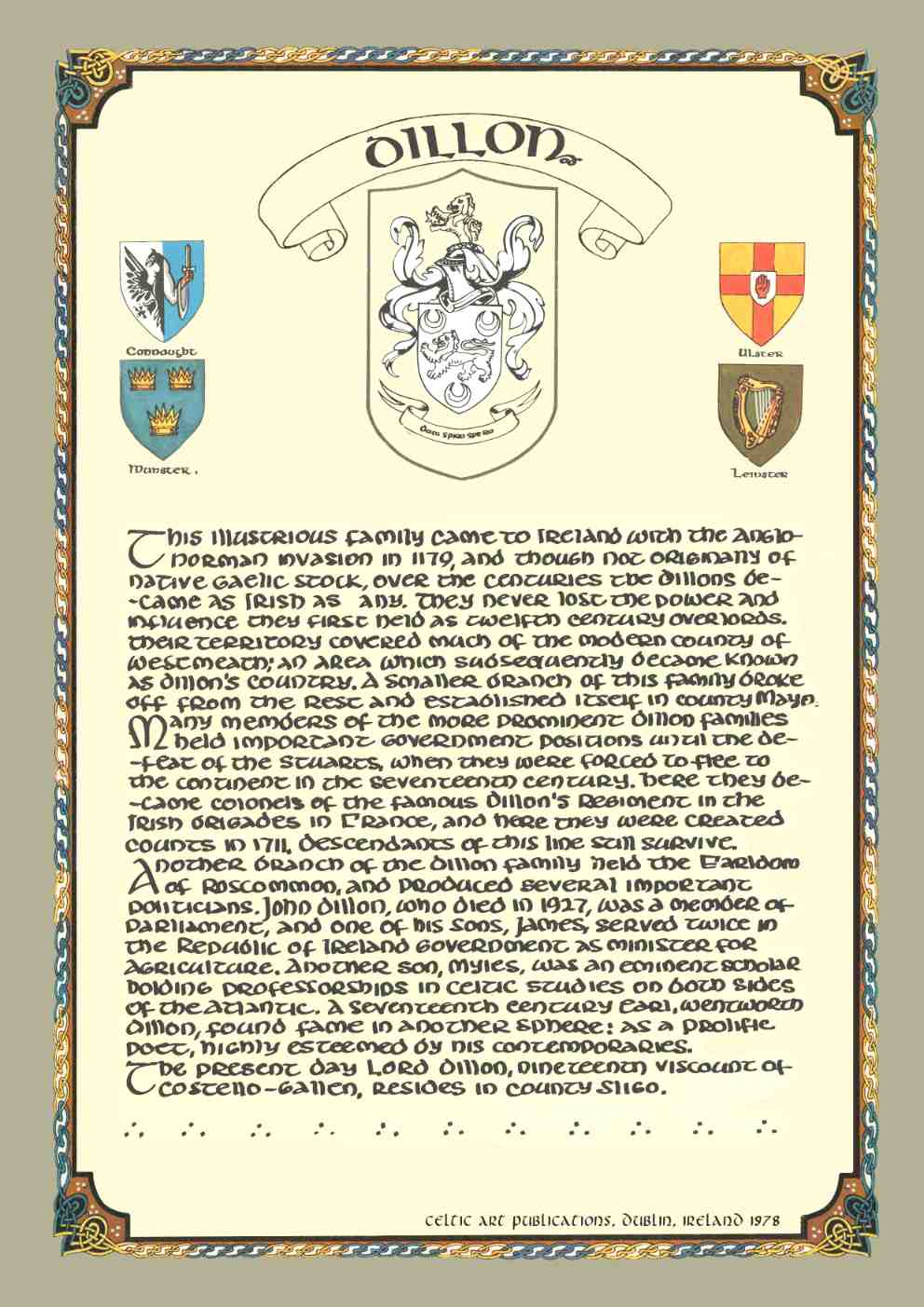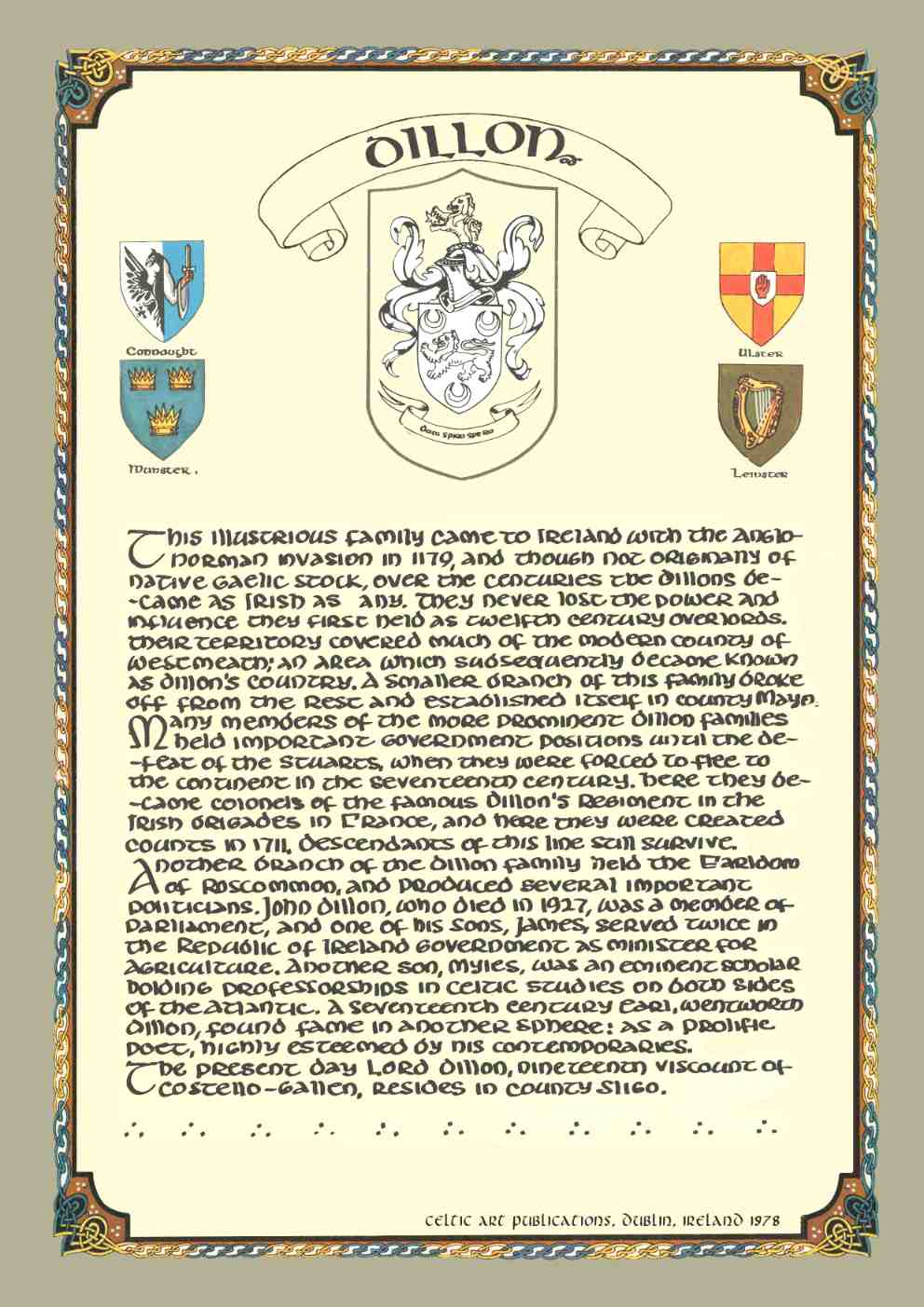 Dillon Family Crest Parchment
Sale price
$10.00
Regular price
Tax included.
In stock, ships within 2 days
Dillon Family Crest Parchment
Product description
Shipping & Return
Customer Reviews
Dillon Family Crest 
Created by Edmond McGrath (RIP) in the 1970s, these Irish prints were rediscovered in 2020 after 40 years in safe storage. Beautifully arranged in this Irish coat of arms parchment is an artistic celebration of the Dillon Irish surname. The Dillon family crest is illustrated at the center and surrounded by famous Celtic symbols of Ireland. These illustrations are a wonderful dedication to Irish last names.

Imagine having this beautiful story of your name hanging on your living room wall for all to study over a glass of wine, or to take a glimpse at it when having your Barry's tea on the couch. There is so much to take in. This parchment is an heirloom for many generations yet to come. It's a wonderful reminder of your Irish heritage.

On your living room wall, you will always be reminded of your Irish origins and it will be a show stopper for visiting friends and family. Presenting a family coat of arms gift is a truly special gift for the home for someone special who has that unique Irish connection.

On this parchment, the Killarney lakes take center stage above the heraldic shield whilst many Irish Celtic symbols and famous monuments surround it.

Illustrated in this parchment are:
Book of Kells inspired artwork
The Cross of Cong
The Ardagh Chalice
Killarney Lakes
The Irish Harp
The Currachs of the West of Ireland
Glendalough Monastery
Blarney Castle
Traditional thatched houses of Ireland
Cross of Muiredach
The Burgh O'Malley Chalice
The crests of the four provinces of Ireland: Ulster, Connaught, Leinster, Munster
The Celtic Torc 
The Dillon Coat Of Arms Story

Read the intriguing transcription of the text illustrated on the Dillon family history parchment:

This illustrious family came to Ireland with the Anglo-Norman invasion in 1179, and though not originally of native Gaelic stock, over the centuries the Dillons became as Irish as any. They never lost the power and influence they first held as twelfth century overlords. Their territory covered much of the modern County of Westmeath; an area which subsequently became known as Dillion's Country. A smaller branch of this family broke off from the rest and established itself in County Mayo. Many members of the more prominent Dillion families held important government positions until the defeat of the Stuarts, when they were forced to flee to the continent in the seventeenth century. Here they became colonels of the famous Dillion's resident in the Irish brigades in France, and here they have created counts in 1711, descendants of this line still survive. Another branch of the Dillon family held the Earldom of Roscommon, and produced several important politicians. John Dillon, who died in 1927, was a member of parliament, and one of his sons, James, served twice in the Republic of Ireland government as minister for agriculture. Another son, Myles, was an eminent scholar holding professorships in Celtic studies on both sides of the Atlantic. A seventeenth century Earl, Wentworth Dillon, found fame in another sphere: as a prolific poet, highly esteemed by his contemporaries. The present day Lord Dillon, nineteenth viscount of Costello-Gallen, resides in County Sligo.

The Print Options For You:
Framed Print: White or black frame. Delivered framed to your home for you to hang on your wall. Two optional sizes for you. Choose from 18" x 24" or 24" x 36".

Print Only: Print rolled and shipped to your home. Two optional sizes for you. Choose from 18" x 24" or 24" x 36".

Unlimited Print Download: An ideal option if you would like your extended family to each have one. Use it digitally as your desktop wallpaper or print it for your living room. If you choose to order this, you will be sent the link to download the high quality PDF afterwards and start sharing with all the family!
A4: This consists of the family crest and the four shields of the provinces of Ireland. And the family history story.
🇺🇸 To USA: Standard shipping is US$10.95. (Arrives in 9-12 days)
.
🇨🇦 To Canada: Standard shipping is $15.95 (Arrives in 9-12 days).
🇮🇪 To Ireland: Standard Shipping is €5.95 (3-5 days).
🇬🇧 To UK: Standard Shipping is €8.95 (9-12 days)
.
To rest of Europe: Standard Shipping is €11.95 (9-12 days).
To Australia/NZ: Standard Shipping is $22.95.
Expedited 3-5 day shipping is available also.
Sweeney family crest
Beautiful design and product. Interesting to know the family history
Very happy with the plaque!
Cost of Arms Double Family Shield
Shield came out beautifully & Aidan was very helpful & responsive
Wedding surprise !
Coat of arms was a perfect gift! Everything was exactly as expected, great product and service .
Family Crest Parchment
Had ordered this for an 80th birthday. There was a problem getting the size frame I ordered. Aidan offered me the next size up at the same price and made sure it was hand delivered on time for the party. Great service and would definitely recommend them.