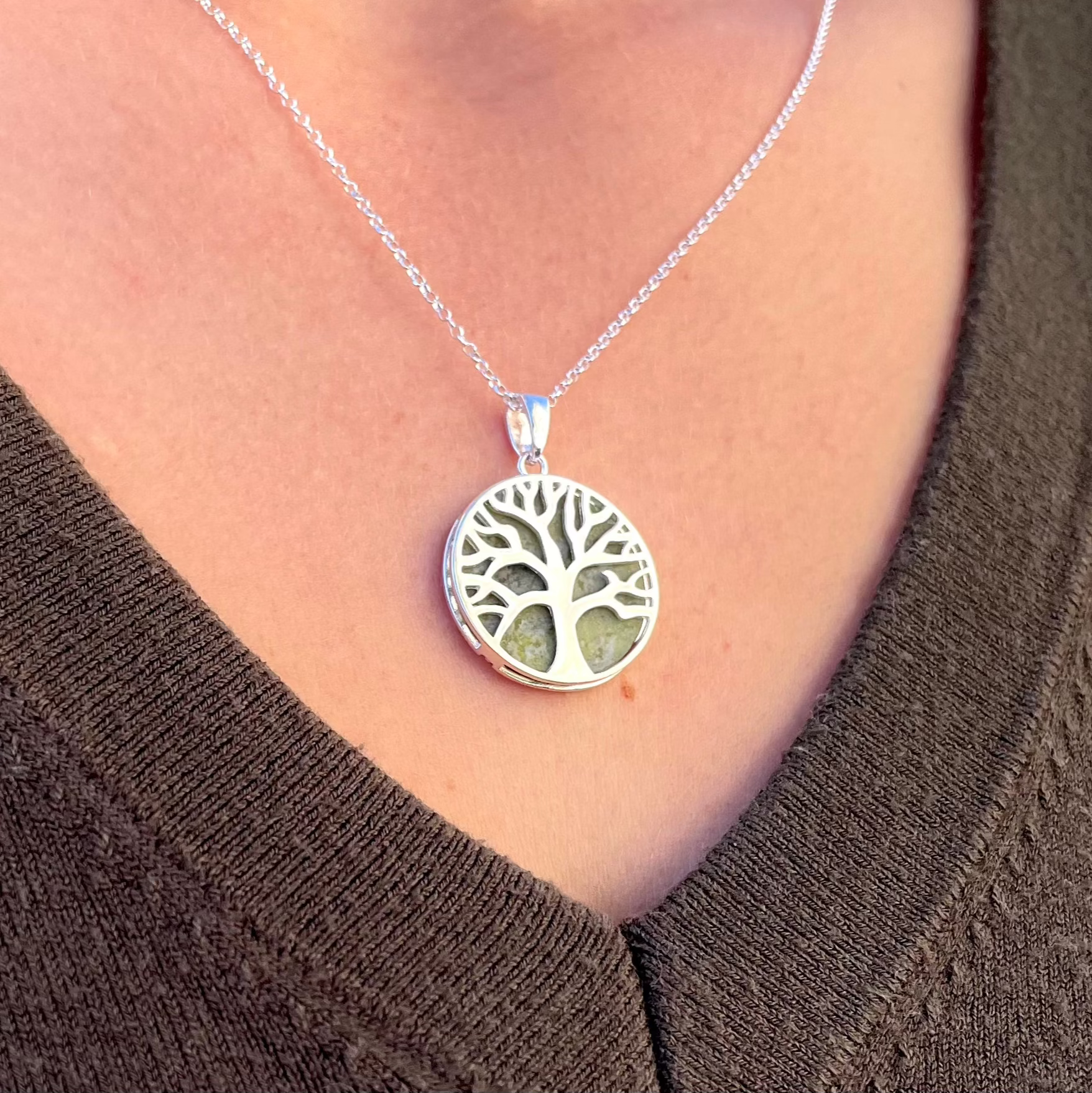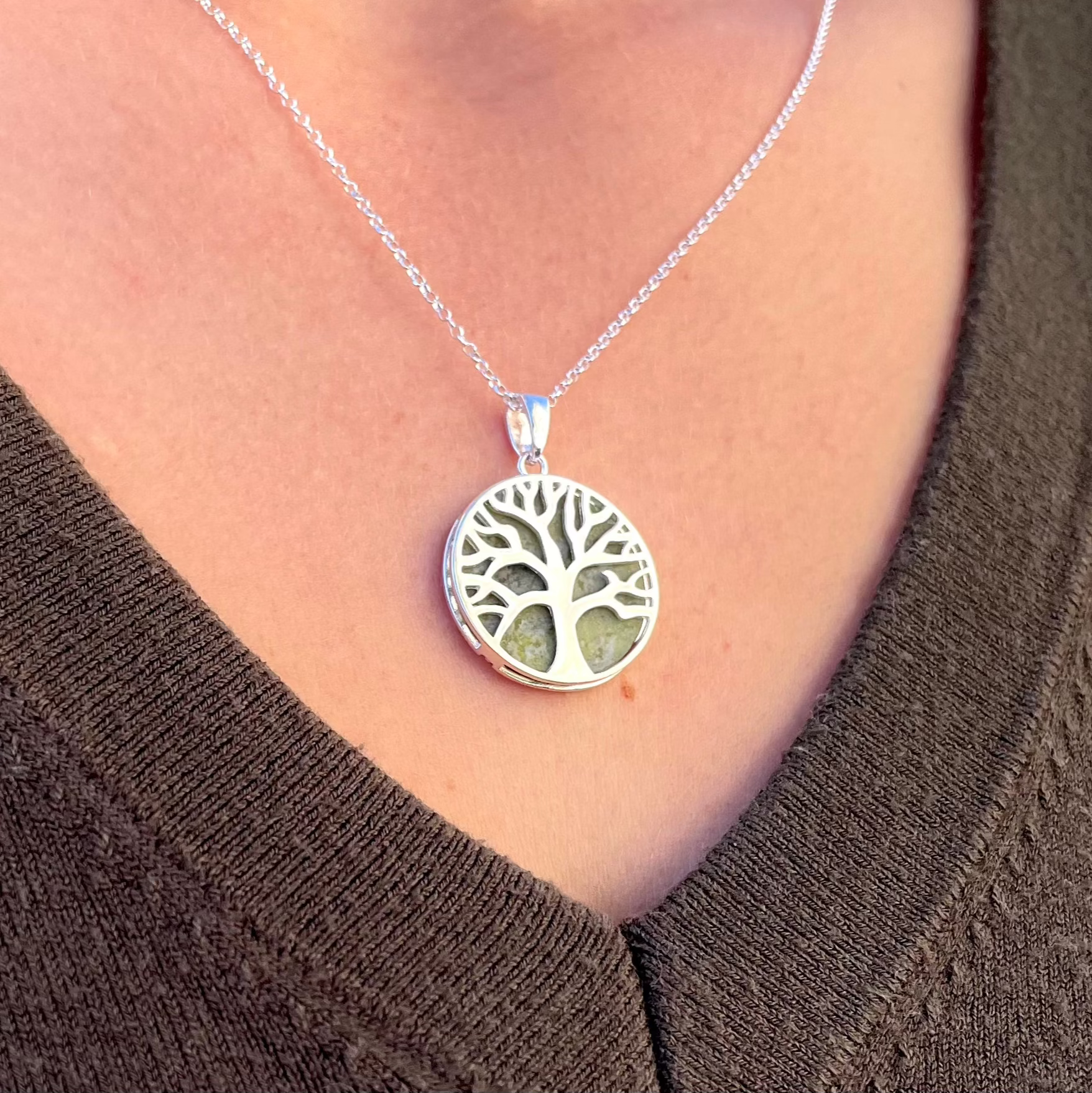 Connemara Marble Tree of Life Set
Sale price
$145.00
Regular price
Tax included.
In stock, ships within 2 days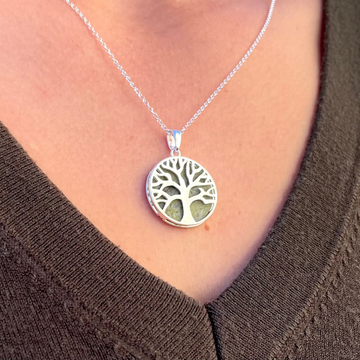 Connemara Marble Tree of Life Set
Sale price
$145.00
Regular price
Product description
Shipping & Return
Customer Reviews
Show off your Irish roots with this stunning Tree of Life Connemara Marble pendant with earrings. In modern times the Tree of Life has come to represent strength, wisdom and longevity. It has always represented the link between heaven and earth that connects all forms of creation. A symbol of connection to one another and the universe.
The design forms the shape of the tree branching out with our Connemara marble set discretely behind the frame.Delicately crafted from Connemara marble, this pendant and earrings set boasts an intricate tree of life pattern which has been exquisitely rendered from sterling silver.
Handcrafted in Ireland, each piece of Connemara Marble is completely unique, an authentic stone found only in the West of Ireland.
2cm round pendant 
1.5cm round earrings 
sterling silver 
handmade in Ireland 
genuine Connemara marble 
🇺🇸 To USA: Standard shipping is US$10.95. (Arrives in 9-12 days)
.
🇨🇦 To Canada: Standard shipping is $15.95 (Arrives in 9-12 days).
🇮🇪 To Ireland: Standard Shipping is €5.95 (3-5 days).
🇬🇧 To UK: Standard Shipping is €8.95 (9-12 days)
.
To rest of Europe: Standard Shipping is €11.95 (9-12 days).
To Australia/NZ: Standard Shipping is $22.95.
Expedited 3-5 day shipping is available also.
The daughters going to really love it for Christmas!
Amazing
Just the perfect gift from Ireland!
Ardboe Cross
I have purchased a good many double sided crosses from you,,as you know.. both in gold and sterling and they all do not disappoint... I love wearing them and it keeps me connected with my faith and Irish roots.. You have always attempted to advise me on which ones would be the good for my " collection" ...Thank you... I consider them "wearable investments" and hope my Grandchildren will love them as well as myself... Cannot wait to select another ....Quality and helft are what made me choode yours.. So many others I have looked at are single sided and light weight.,, I tend to be hard on jewelry so I need sturdy materials..THank you very much ..DO not change your standards Dara Lehans