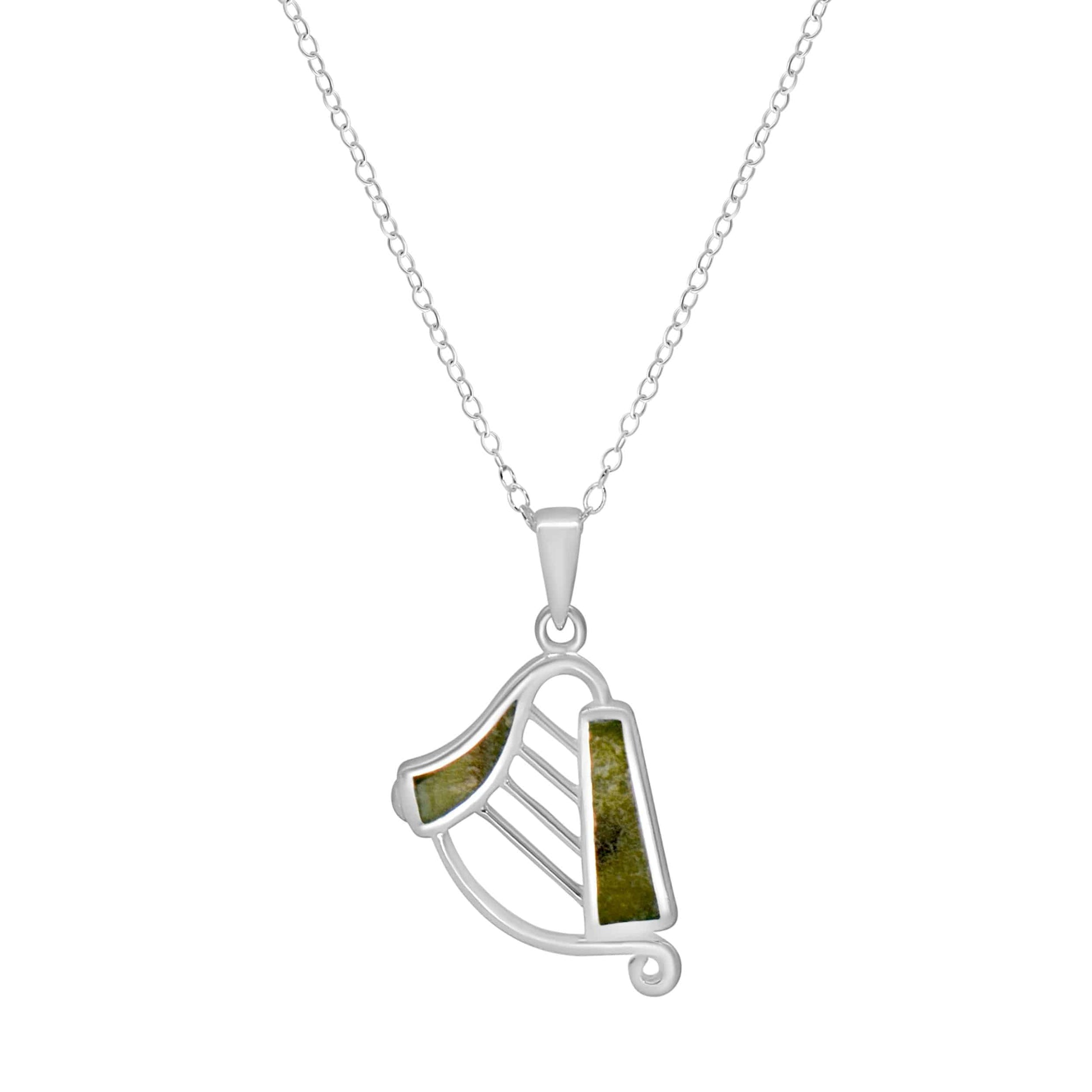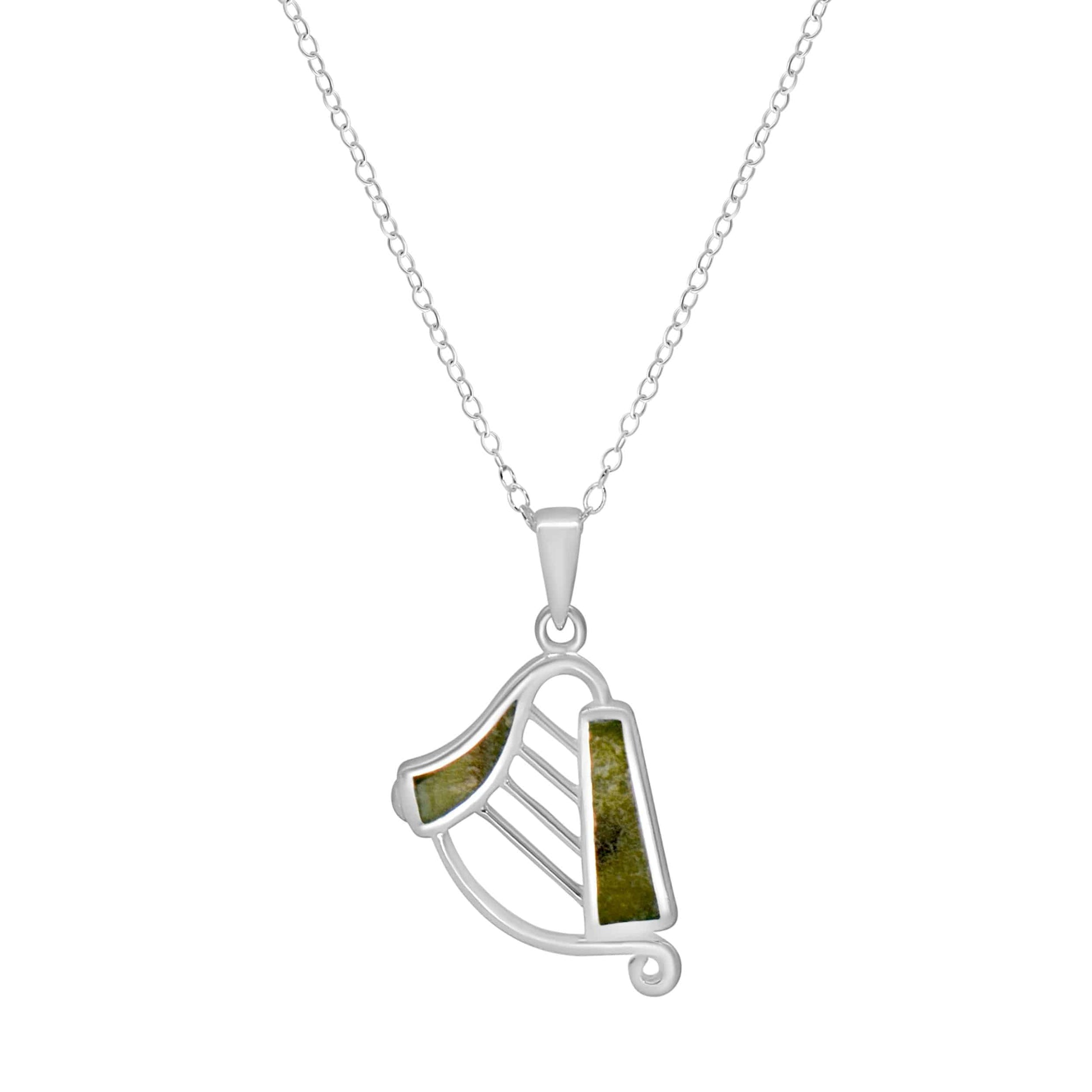 Pendant with Inlayed Marble Harp
Sale price
$55.00
Regular price
Tax included.
In stock, ships within 2 days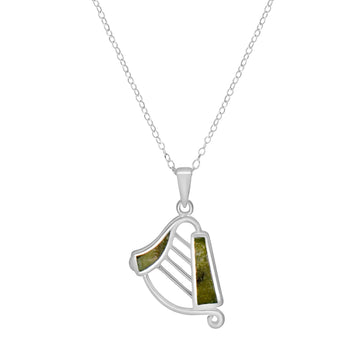 Pendant with Inlayed Marble Harp
Product description
Shipping & Return
Customer Reviews
About this Piece
An elegant sterling silver pendant inlayed with marble extracted locally from County Galway, depicting Ireland's national emblem.
The pendant hangs on a sterling silver 18″ chain.
History of the Celtic Harp

The
cláirseach
, or harp, is the national emblem of Ireland, appearing on flags, passports, and currency. It was an instrument of the elite in Ireland and Scotland, requiring years of practice to master, with strings made of metal that had to be constantly dampened due to their long resonance. Though it may have existed as far back as the 11th Century, its position as a symbol of Ireland and Celtic culture earned it the enmity of the English authorities in the late medieval period, who eventually banned it entirely - only a handful of harps from before this period have survived to this day. However in recent years the harp has had a cultural revival (with new musicians typically favoring small models), both as an instrument and as a symbol of Irish identity. 
🇺🇸 To USA: Standard shipping is US$10.95. (Arrives in 9-12 days)
.
🇨🇦 To Canada: Standard shipping is $15.95 (Arrives in 9-12 days).
🇮🇪 To Ireland: Standard Shipping is €5.95 (3-5 days).
🇬🇧 To UK: Standard Shipping is €8.95 (9-12 days)
.
To rest of Europe: Standard Shipping is €11.95 (9-12 days).
To Australia/NZ: Standard Shipping is $22.95.
Expedited 3-5 day shipping is available also.
The daughters going to really love it for Christmas!
Amazing
Just the perfect gift from Ireland!
Ardboe Cross
I have purchased a good many double sided crosses from you,,as you know.. both in gold and sterling and they all do not disappoint... I love wearing them and it keeps me connected with my faith and Irish roots.. You have always attempted to advise me on which ones would be the good for my " collection" ...Thank you... I consider them "wearable investments" and hope my Grandchildren will love them as well as myself... Cannot wait to select another ....Quality and helft are what made me choode yours.. So many others I have looked at are single sided and light weight.,, I tend to be hard on jewelry so I need sturdy materials..THank you very much ..DO not change your standards Dara Lehans