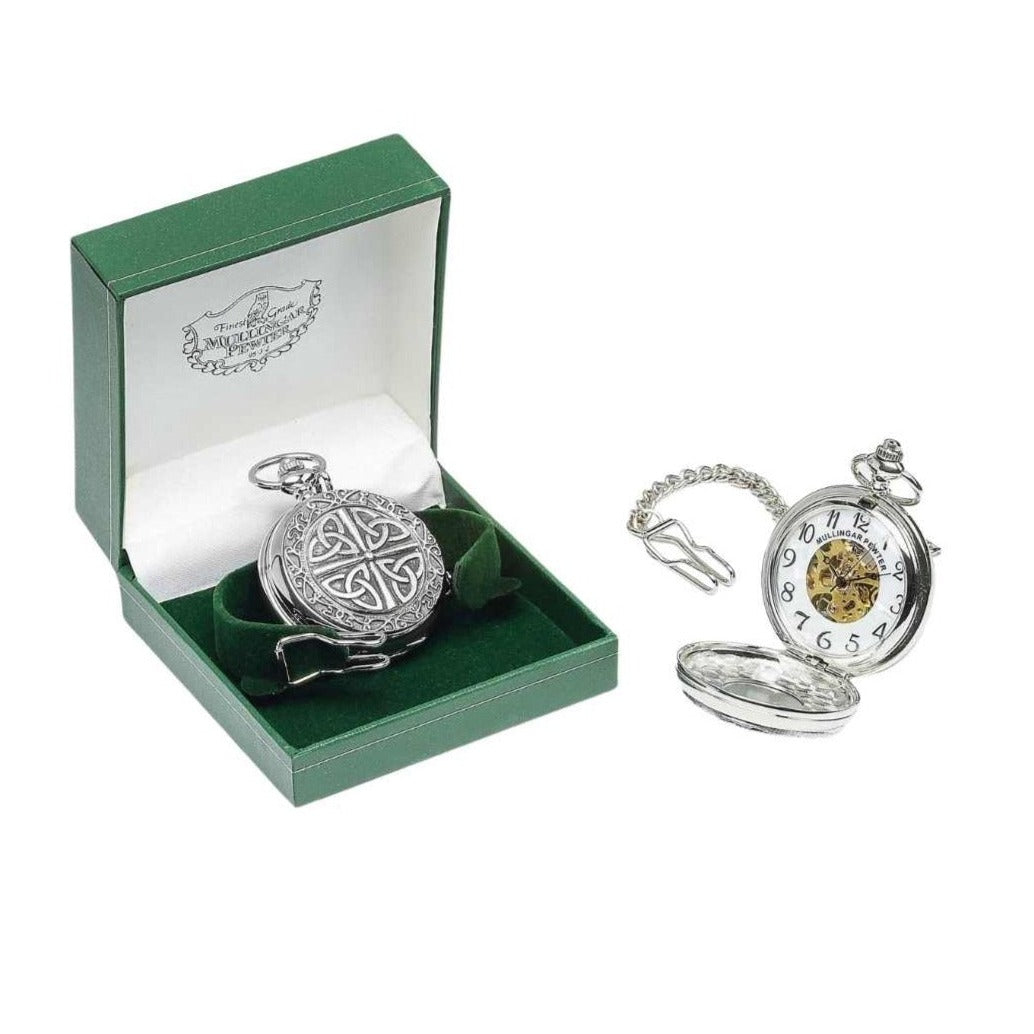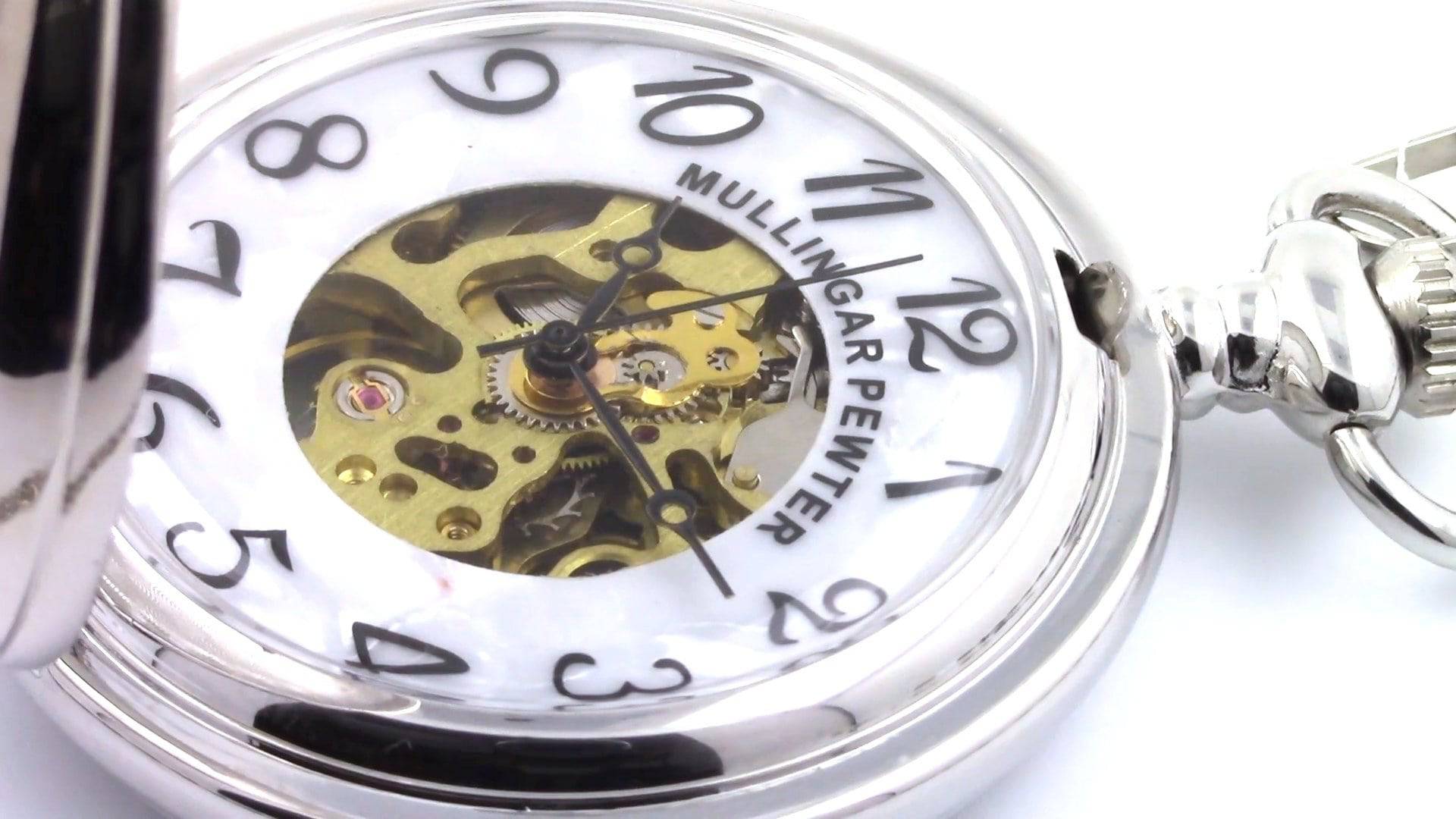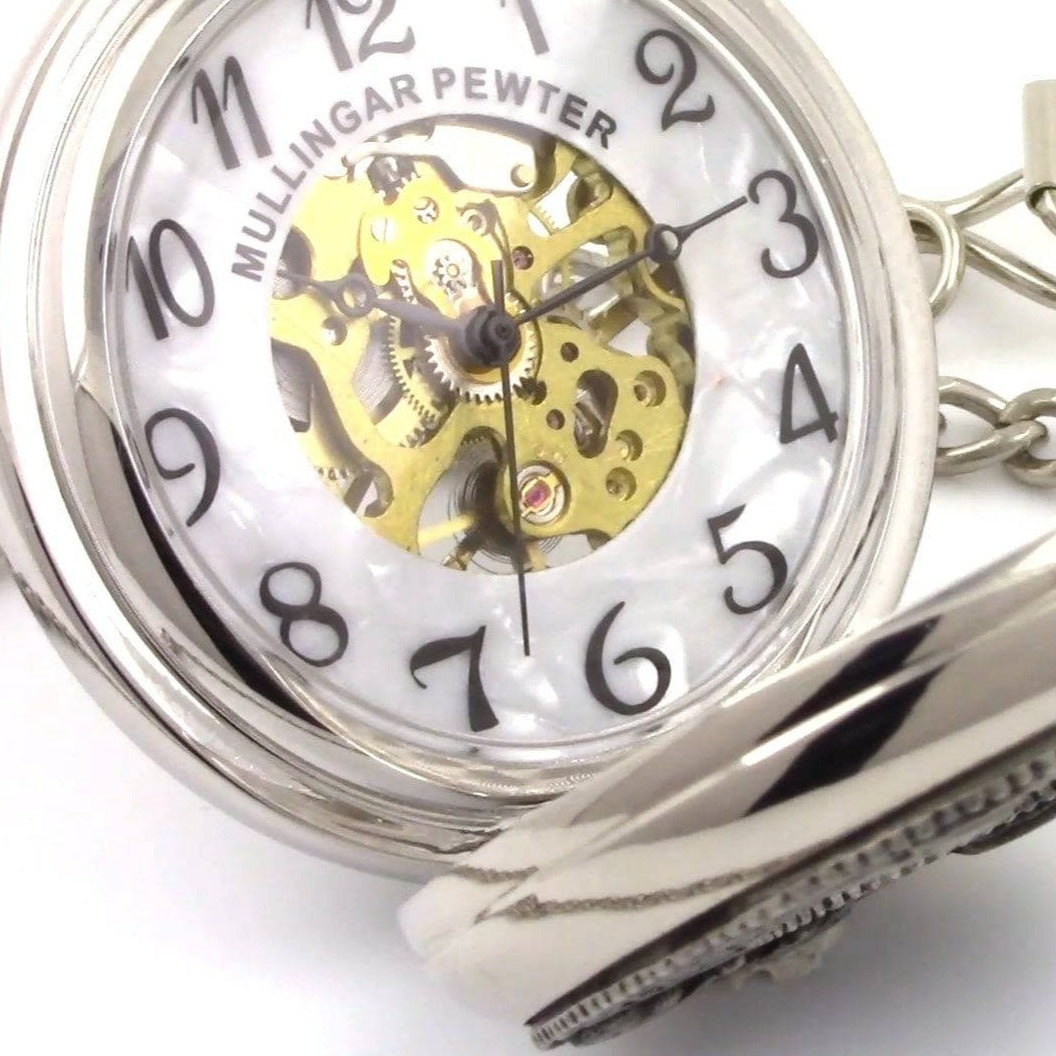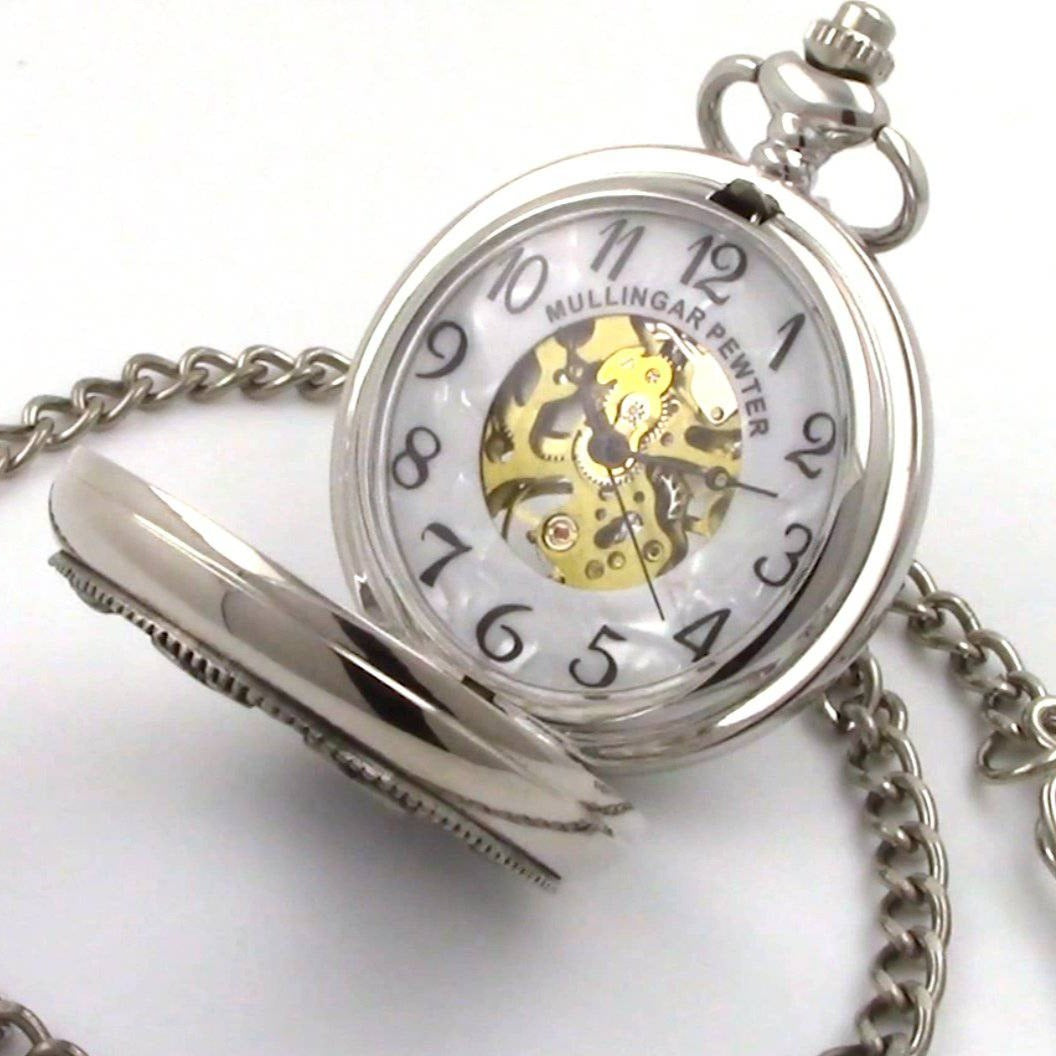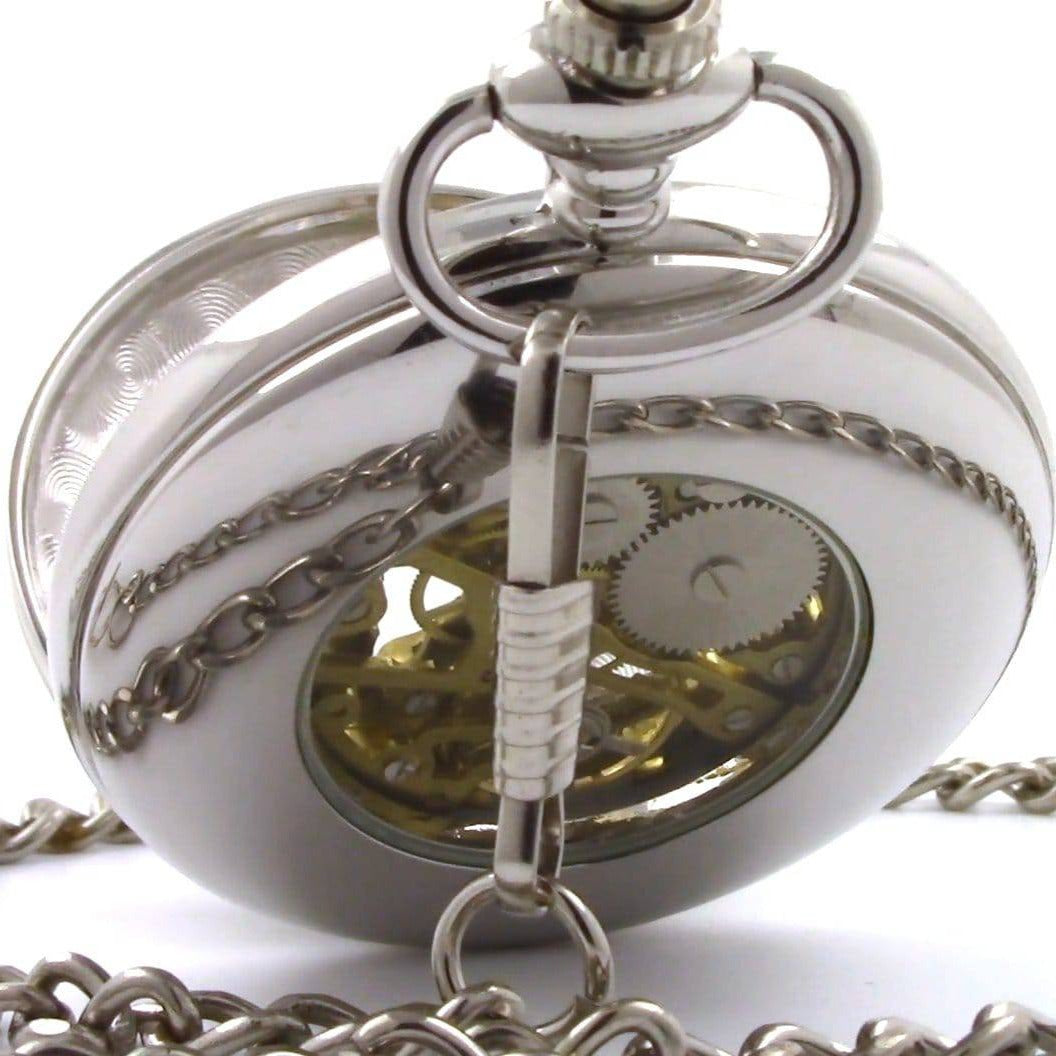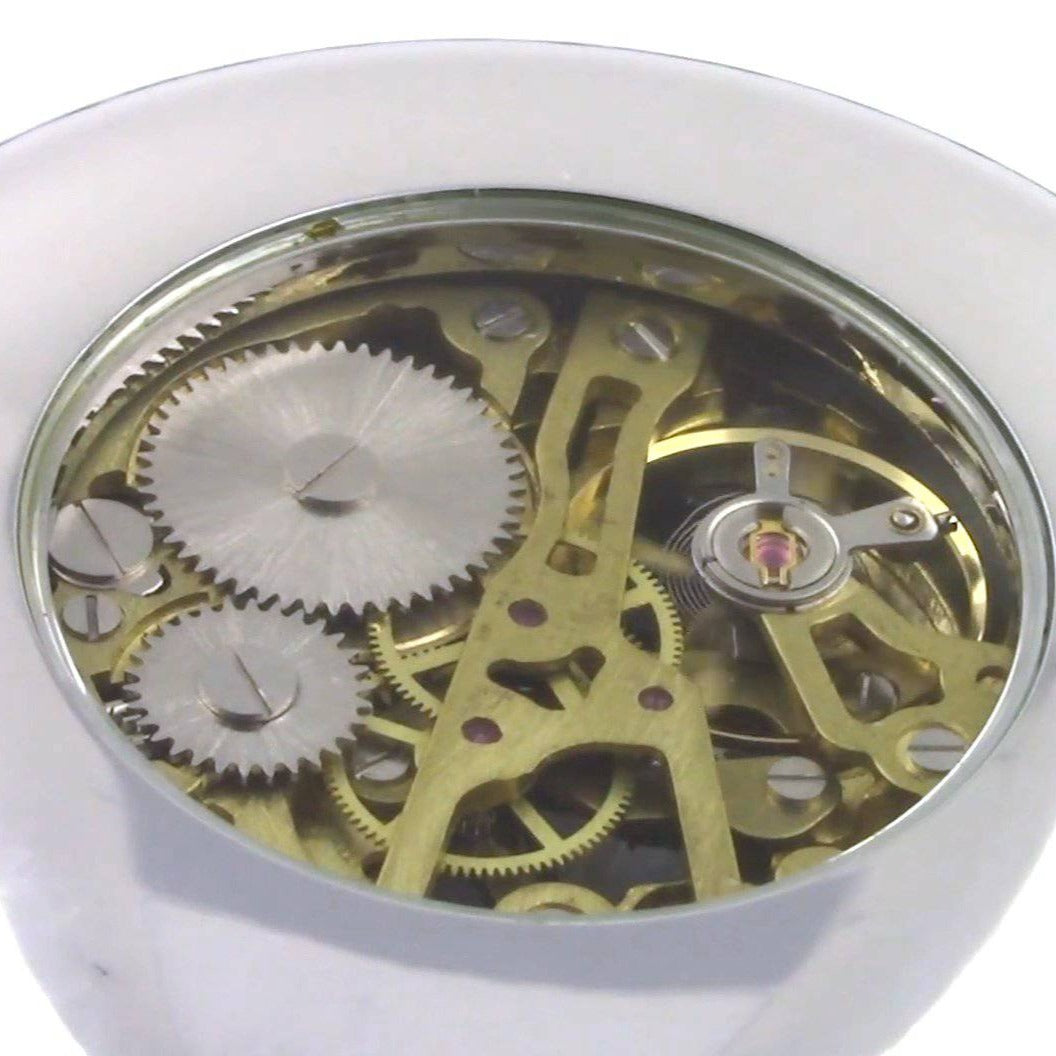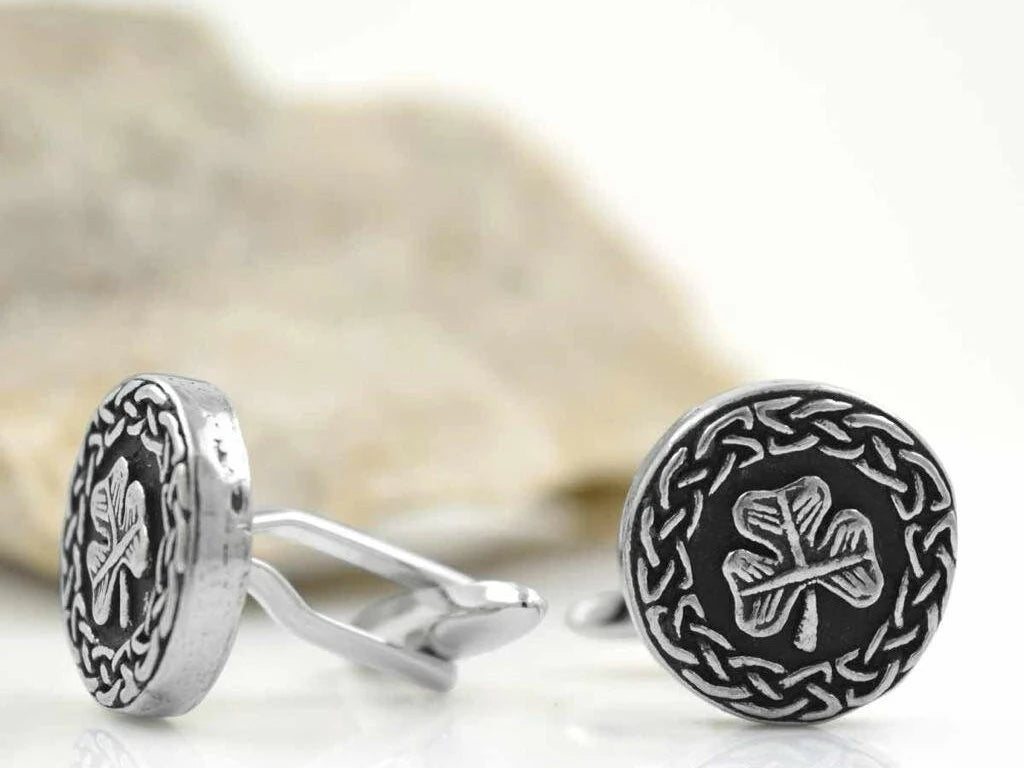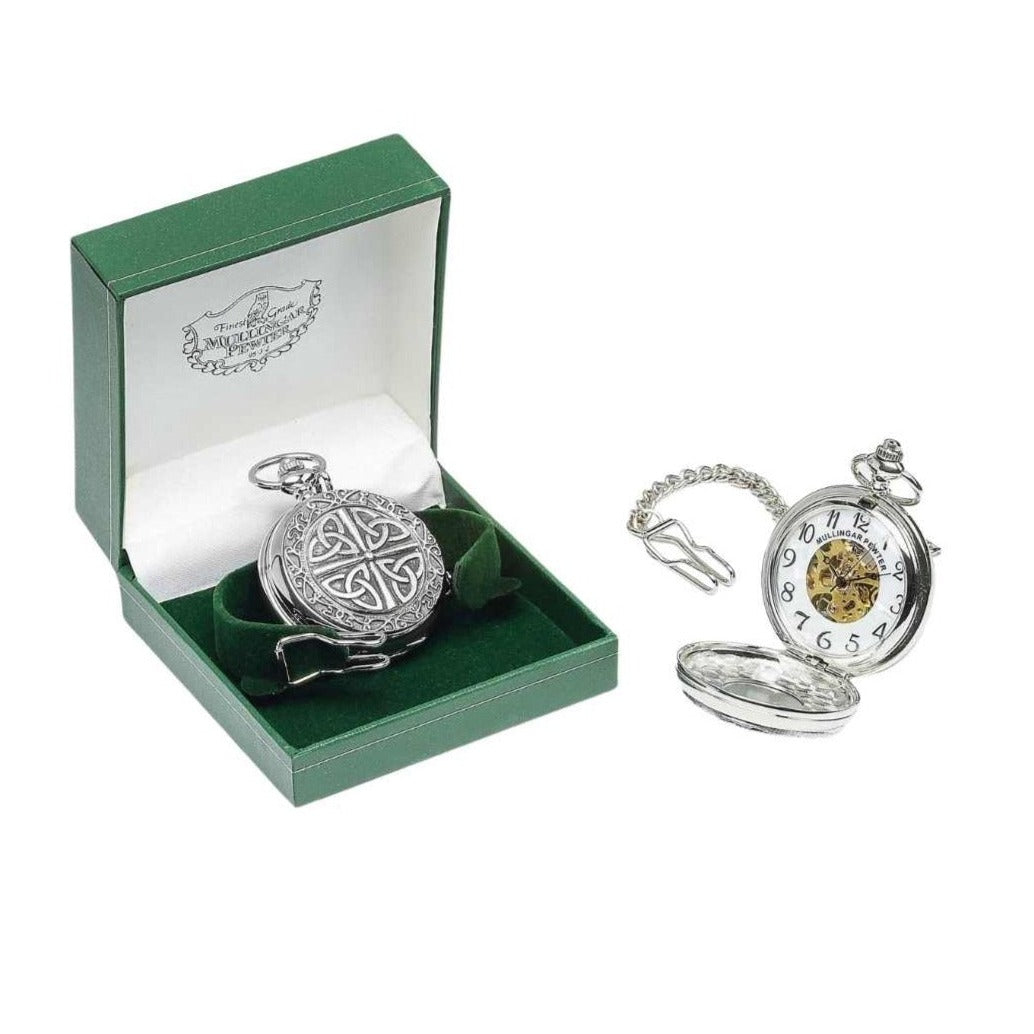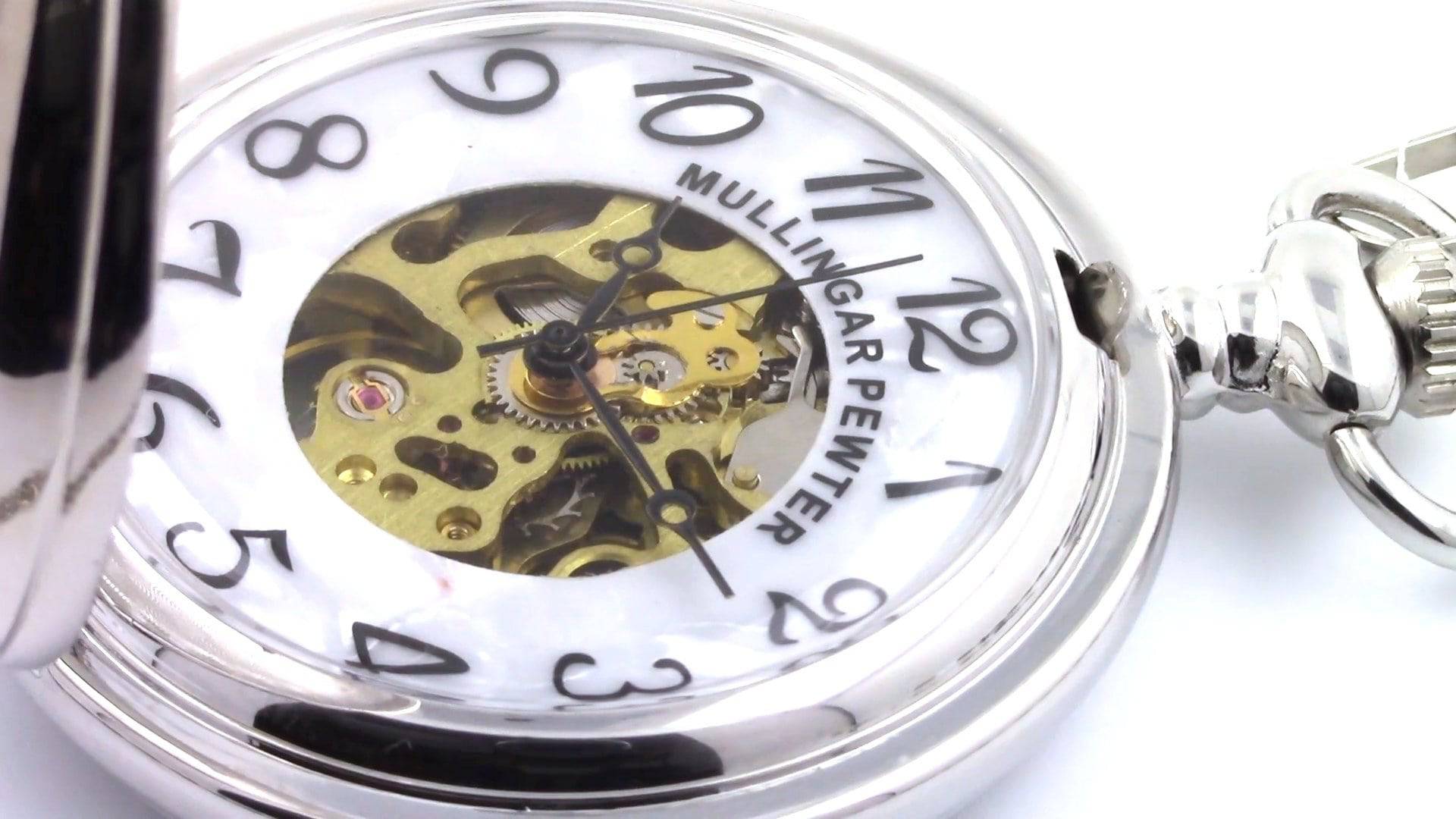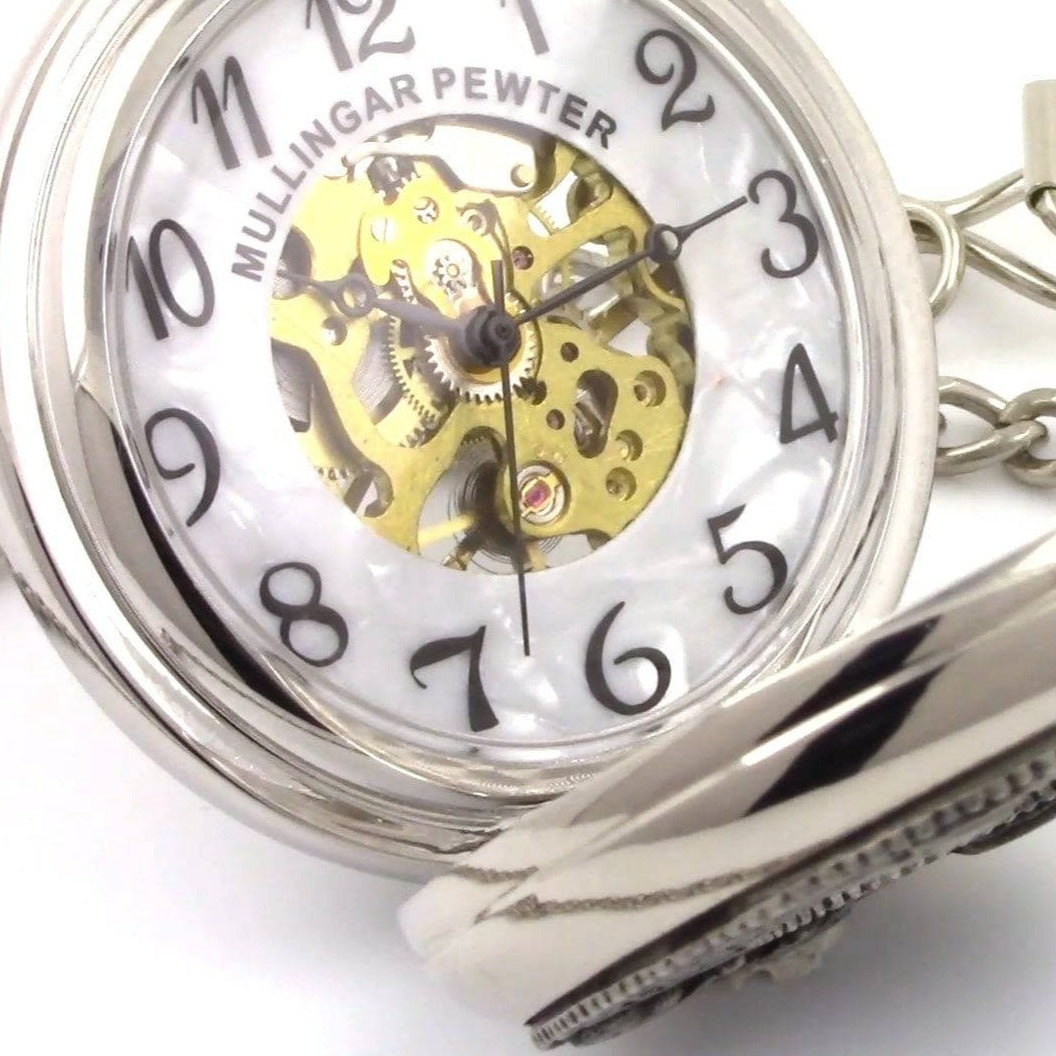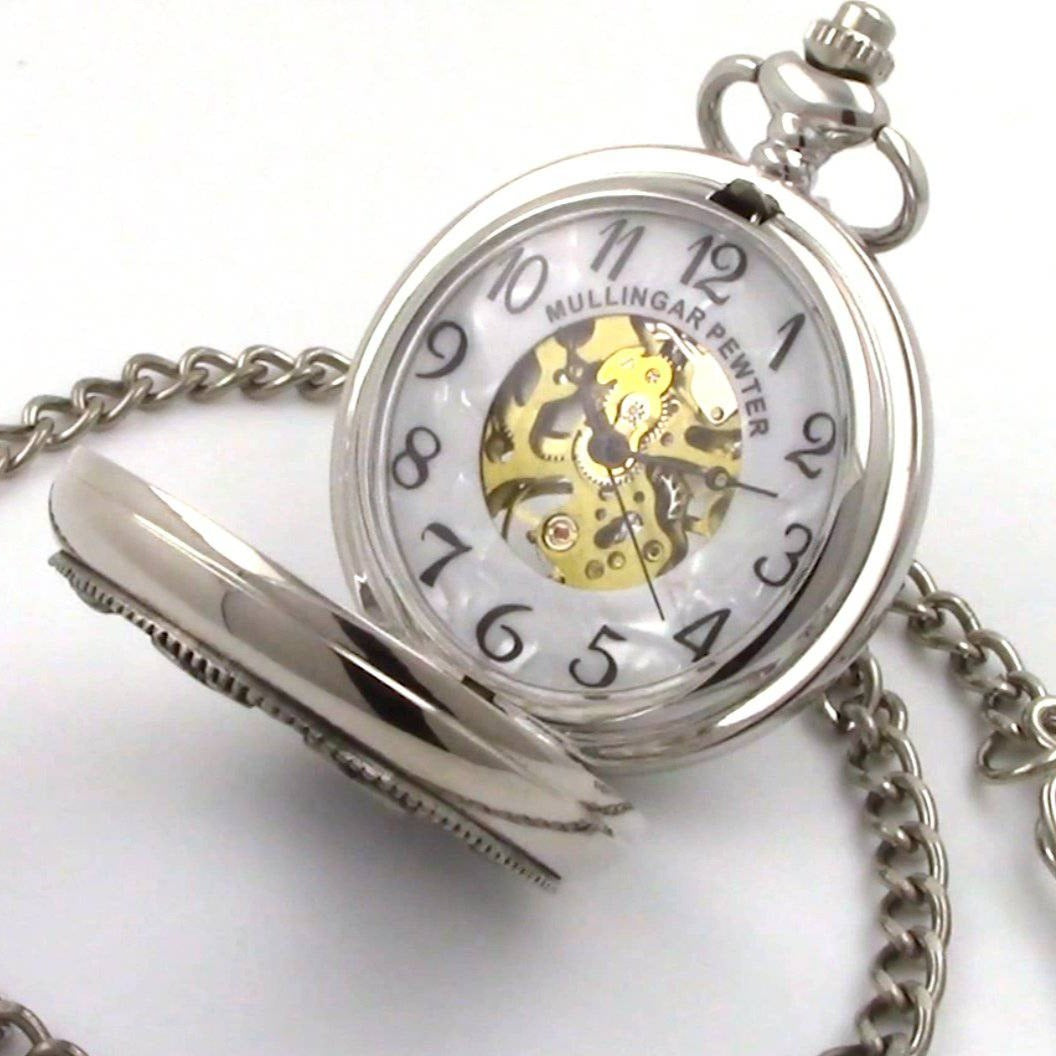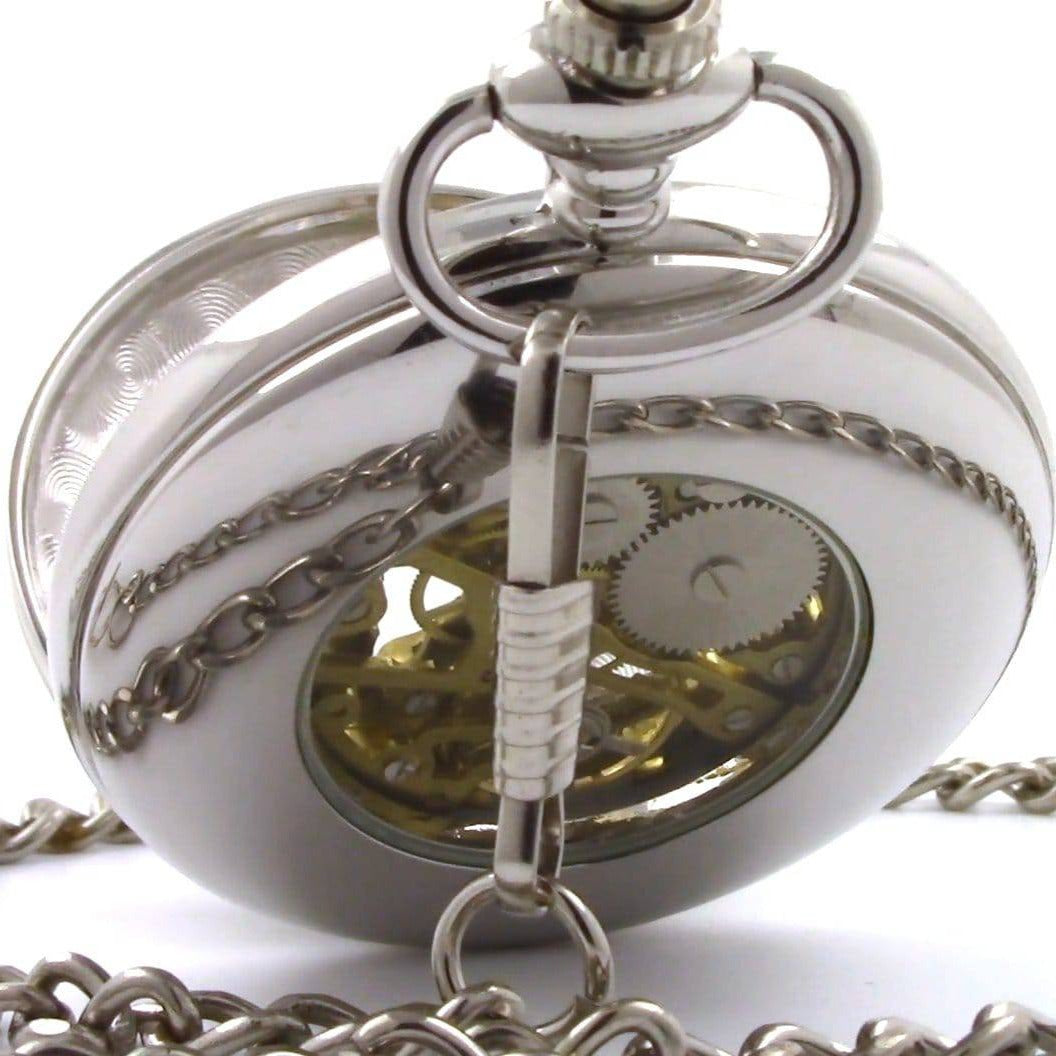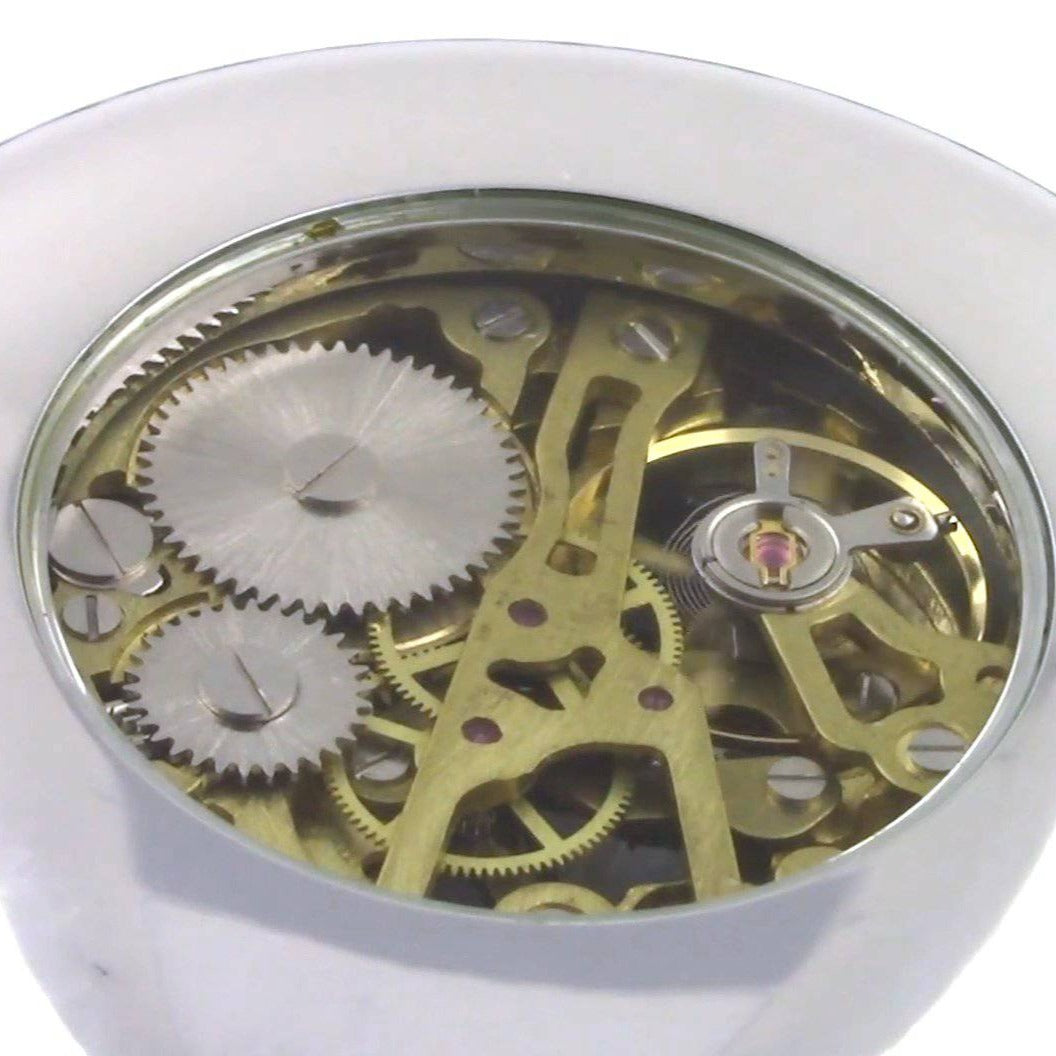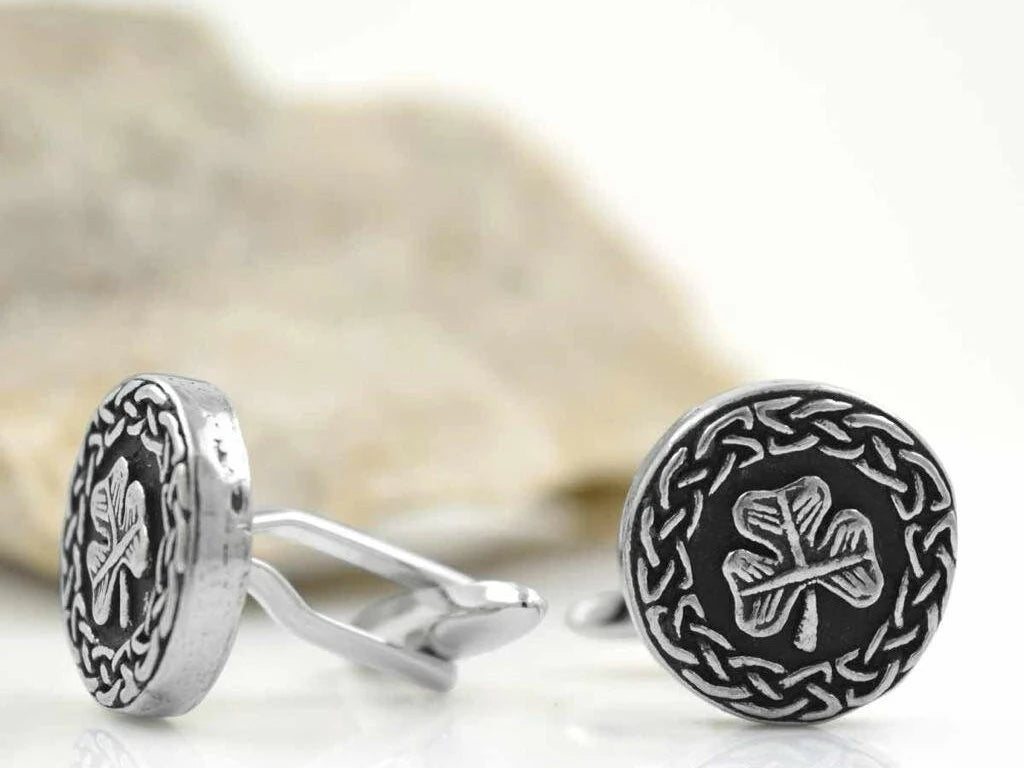 Mullingar Pewter Mechanical Pocket Watch with Trinity Knot
Sale price
$58.00
Regular price
Tax included.
In stock, ships within 2 days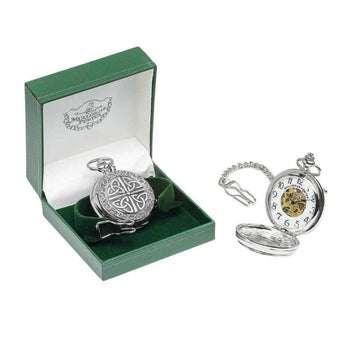 Mullingar Pewter Mechanical Pocket Watch with Trinity Knot
Product description
Shipping & Return
Customer Reviews
Pocket Watch with Trinity Knot Design
This Mullingar Pewter
Pocket Watch
is the perfect gift for someone who enjoys subtle elegance. Featuring the Celtic Knot design, this Celtic pocket watch is a really special item to give to a friend or loved one. The watch itself is a manual wind-up and the workings can be seen from both the front face and back of the watch. The chain is 12" in length and has a pocket clip on the end designed to slip on to the cuff of a pocket. This is a beautifully crafted timepiece and a stunning Irish gift.
Mechanical Pocket Watch
12" chain
Handcrafted in Westmeath, Ireland

Pewter Cufflinks available as optional set
History of the Celtic Trinity
The leaf-life trinity knot, or triquetra (from the Latin 'three-cornered), was used by early Christians to represent the Holy Trinity, though the symbol has its roots in earlier pre-Christian religions, possibly existing thousands of years beforehand. Being such as versatile symbol, the triquetra has countless interpretations - the number three was an important number in Celtic symbolism, so possible meanings also include the unity of the earth/sea/sky, the three stages of life, or various triple-deities. 
The design came to prominence during the period of 'insular art' in the early middle ages, which combined early Christian and Celtic art. Some of its most famous incarnations are found within the artwork of the Book of Kells. It was popularized again during the Celtic revival of the 19th Century. 
🇺🇸 To USA: Standard shipping is US$10.95. (Arrives in 9-12 days)
.
🇨🇦 To Canada: Standard shipping is $15.95 (Arrives in 9-12 days).
🇮🇪 To Ireland: Standard Shipping is €5.95 (3-5 days).
🇬🇧 To UK: Standard Shipping is €8.95 (9-12 days)
.
To rest of Europe: Standard Shipping is €11.95 (9-12 days).
To Australia/NZ: Standard Shipping is $22.95.
Expedited 3-5 day shipping is available also.
Perfect Well Crafted Ornament
I absolutely love this ornament!!! It's my Grandsons 1st Chistmas and each year I give the grandchildren an ornament. This year I'm more excited than ever! My grandson Sullivan was born on St. Patricks Day and is half Irish. This ornament couldn't be more perfect for him! The quality is amazing and it's very elegant. It will be treasued for years!
One of the Best Black Teas
When I made my first cup of tea of this blend, it tasted amazing like it reminded me of the Classic Irish Breakfast Blend from Twining's Tea Co. I have to say that this has got to be one of the best blends of Breakfast Teas on Earth.
A One of a Kind of A Cup of Tea
When I first got it in the mail, I thought, "Gee this tastes exactly like when I got it in the Herbal Tea Collection." This kind of tea is one of the best herbal teas I've ordered from here. Two thumbs way up for the Connemara Kitchen.
Great product
Great piece and great customer service
Shot glasses
I bought 2 sets and gave them to a friend in Australia who loves them ,great value
Thank you