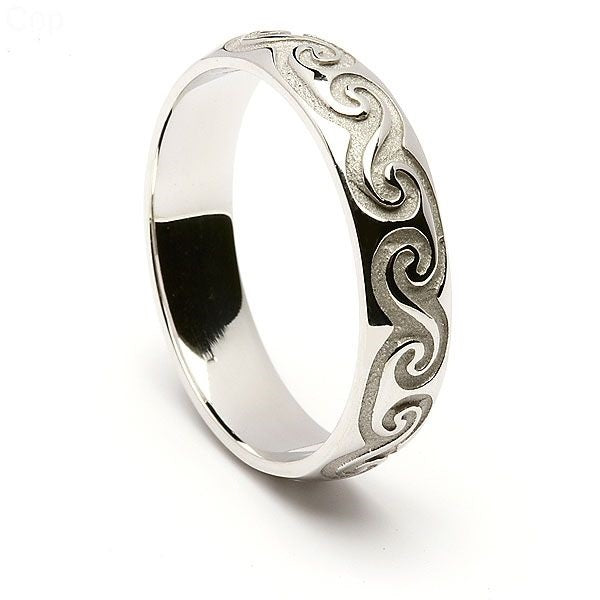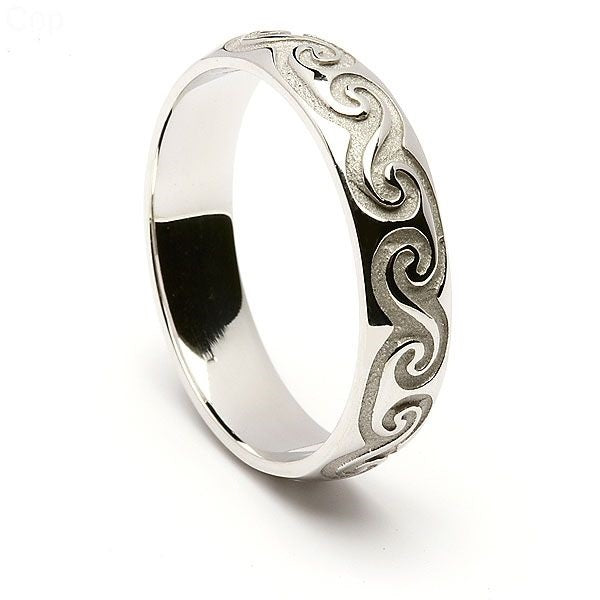 Mens White Gold Newgrange Celtic Wedding Ring
Sale price
$1,590.40
Regular price
$1,988.00
Tax included.
In stock, ships within 2 days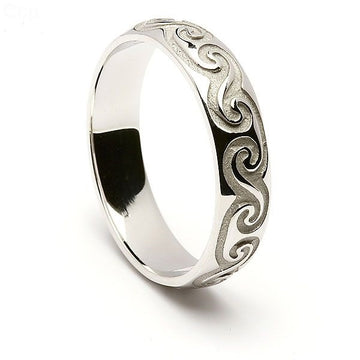 Mens White Gold Newgrange Celtic Wedding Ring
Product description
Shipping & Return
Customer Reviews
14K White Gold Wedding Ring With Celtic Details
This 14K white gold men's wedding ring features the iconic La Tène knot design carved into the band, resulting in an exquisite piece of Celtic craft.
Metal: 14ct white gold

Design: Celtic Knot 
Width: 5.6mm
Made in Ireland
Stamped at the Dublin Essay Office
Presentation box included
Need to find your ring size? Click here to use our ring sizer.
Ancient Celtic Art

Also known as insular art (from the Latin insula meaning 'island'), Celtic designs were eventually adapted by early Christian artists to adorn their works (most famously with the Book of Kells) and to acclimatize Christianity to the local pagan populations. The most iconic features of Celtic art were the knots, known as icovellavna, which formed stylized patterns for illustration and calligraphy, such as the trinity knot. Spirals and triple-spirals (triskeles) are also a common motif - the latter being related to the importance of the number three in Celtic mythology. As the ancient Celts migrated from Central Europe to Ireland and Britain, the designs likely have a mainland origin - though Christian missionaries from these islands would later help reintroduce the art back to Europe. 
🇺🇸 To USA: Standard shipping is US$10.95. (Arrives in 9-12 days)
.
🇨🇦 To Canada: Standard shipping is $15.95 (Arrives in 9-12 days).
🇮🇪 To Ireland: Standard Shipping is €5.95 (3-5 days).
🇬🇧 To UK: Standard Shipping is €8.95 (9-12 days)
.
To rest of Europe: Standard Shipping is €11.95 (9-12 days).
To Australia/NZ: Standard Shipping is $22.95.
Expedited 3-5 day shipping is available also.
The daughters going to really love it for Christmas!
Amazing
Just the perfect gift from Ireland!
Ardboe Cross
I have purchased a good many double sided crosses from you,,as you know.. both in gold and sterling and they all do not disappoint... I love wearing them and it keeps me connected with my faith and Irish roots.. You have always attempted to advise me on which ones would be the good for my " collection" ...Thank you... I consider them "wearable investments" and hope my Grandchildren will love them as well as myself... Cannot wait to select another ....Quality and helft are what made me choode yours.. So many others I have looked at are single sided and light weight.,, I tend to be hard on jewelry so I need sturdy materials..THank you very much ..DO not change your standards Dara Lehans